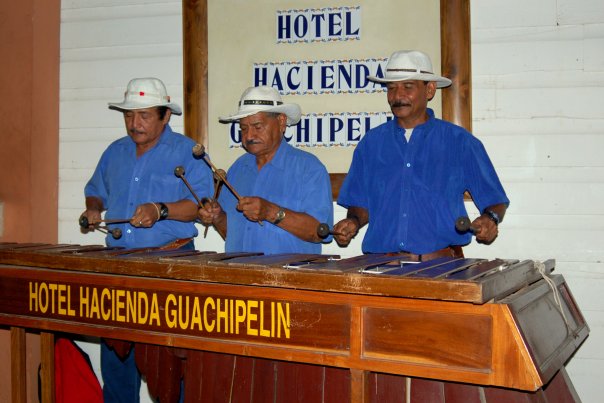 Article by Shannon Farley

You can't visit Guanacaste, Costa Rica without listening at least once to the distinct resonant sounds of a traditional marimba.
Considered a symbol of culture and tradition, especially in the province of Guanacaste, the marimba was declared the national musical instrument of Costa Rica by President José María Figueres in 1996.
At award-winning eco-hotel Hacienda Guachipelin in Guanacaste, Costa Rica, you can listen to colorful marimba music every night. The living legend of Justo Pastor Sanchez Castillo – known affectionately to all at Hacienda Guachipelin as "Don Justo" – makes magic with his music on the marimba in the hotel's La Hacienda Restaurant and bar every night during dinner.
The marimba is a percussion instrument consisting of a set of wooden bars, arranged like those of a piano, which when struck with mallets produce musical tones. Resonators (tubes, usually of aluminum) that hang below the bars amplify their sound with vibration. In Central America and Mexico, a hole is often carved into the bottom of each resonator and then covered with a delicate membrane made with pig intestine to
add a characteristic "buzzing" or "rattling" sound known as charleo. Marimba players often simultaneously use between two and four mallets in each hand, and often play with one or two other persons for more complicated songs.
The marimba was developed in Guatemala centuries ago, based on a type of xylophone from African slaves; the marimba is also the official national instrument of Guatemala. The historical musical instrument was brought to Costa Rica from Guatemala in colonial times by Franciscan priests, and became the traditional music of Guanacaste.
You can experience the traditions of Guanacaste at Hotel Hacienda Guachipelin, located at the base of the Rincon de la Vieja Volcano. Considered one of the best places to stay in Guanacaste Costa Rica , the eco-tourism hotel is a working horse and cattle ranch and offers top adventure tours in Costa Rica. Hacienda Guachipelin received the TripAdvisor Certificate of Excellence for 2014.
Related articles