Don't waste precious vacation days doing the same old kinds of things in boring places. Make your time off in 2019 really memorable with a Costa Rica adventure vacation.
Article by Shannon Farley
Precious vacation days shouldn't be wasted on ho-hum places and doing the same old kinds of things.
Instead, make 2019 the year for new and exciting travel experiences with a Costa Rica adventure vacation.
Adventures are what dreams are made of. And you don't have to be a daredevil or a twenty-something to go. If you're healthy, young at heart and energetic, we have an adventure vacation for you.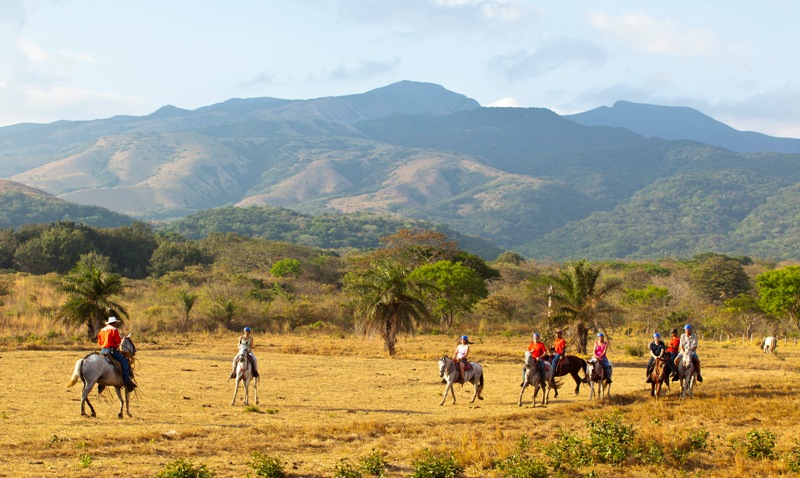 There is no place on earth exactly like Costa Rica. Its fantastic mountains, volcanoes, rainforests, beaches, and breathtaking natural beauty are so popular it's why nearly 2.5 million people have visited Costa Rica so far in 2018. But that doesn't mean you still can't find uncrowded places off the beaten path that are full of exhilarating adventures.
The active Rincon de la Vieja Volcano, in the northwestern province of Guanacaste, is one of those places. It's a destination full of wonders – rare tropical dry forest, national parks and conservation areas, wild rivers, beautiful waterfalls, golden savannas, and exotic wildlife like monkeys, armadillos, coatis, and more than 300 kinds of birds. Mostly sunny, warm weather makes Guanacaste a great destination for adventure vacations in Costa Rica.
You can fulfill all your adventure vacation wishes in one place at Hacienda Guachipelin. The adventure hotel by Rincon de la Vieja National Park gives guests of all ages unforgettable memories with more than 20 Costa Rica adventure tours and nature tours.
"Hacienda Guachipelin is an excellent hotel for visitors to Costa Rica. There are so many activities available at the Adventure Center and it is located right by the Rincon de la Vieja National Park! The guides were exceptional, and the activities were fun! Overall – my family loved this part of our vacation the most," wrote a guest from Massachusetts on TripAdvisor.
It's a good New Year's goal to try something new every day. You can easily do that at Hacienda Guachipelin with exciting zip lining, mountain biking, horseback riding, hiking, waterfall rappelling and river tubing tours. The Rincon de la Vieja Volcano is just as thrilling. When was the last time you hiked past bubbling volcanic mud pits and steaming fumaroles, saw monkeys swinging in the trees, or soaked in natural hot springs?
An adventure vacation doesn't mean you have to rough it. Hacienda Guachipelin has comfortable accommodations, a spa, a farm-to-table restaurant, bar with live music, and a swimming pool.
Whether you are an adventure junkie, outdoor enthusiast or nature lover, have 2019 be your year for an adventure vacation in Costa Rica.