Dare to step out of your comfort zone on one-of-a-kind adventure tours at Hacienda Guachipelin in Guanacaste Costa Rica.
Living in Costa Rica for nearly two decades, I've done dozens of canopy zip line tours. It's always the same.
My pulse races. The back of my neck gets sweaty. My breathing goes shallow. I check my harness half a dozen times. I never go first. Let someone else test the cables, I rationalize, even though I know the steel or carbon fiber cables can support thousands of pounds. I close my eyes on at least the first, and maybe second, cables. But by the third zip line, I remember how much fun this is and let go out of my comfort zone into the adventure.
There's some fun excitement in that mix of anticipation and anxiety that flips your stomach and makes your heart race.
Experts say it's easier to stay in our comfort zone where we feel comfortable. But by limiting ourselves to what we already know, we miss out on opportunities, life experiences, adventure, excitement, and personal growth. When we stretch our limits, not only does our life become more exciting and fun, we also build confidence and improve our ability to deal with change.
When was the last time you felt the thrill of being out of your comfort zone, and not knowing what was going to happen next? If it's been a while, maybe it's time to bring that feeling back into your life.
On vacation in Costa Rica, you're guaranteed to revive the excitement in your life on any one of dozens of adventure tours at Hacienda Guachipelin by Rincon de la Vieja Volcano in Guanacaste.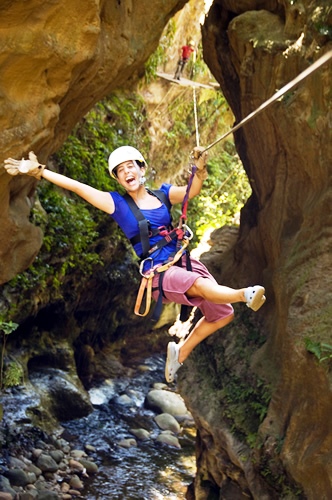 Stand on the edge of a high zip line platform looking out over the tops of tall trees across a wide canyon, knowing that you are about to fly through the air, and I dare you to not have an adrenaline rush.
The Canyon Canopy Tour at Hotel Hacienda Guachipelin will have your heart racing as you speed down zip lines, pretend to be Tarzan on rope swings, cross hanging rope bridges high above a rushing river, and rappel down (then climb back up) a 65-foot rock wall.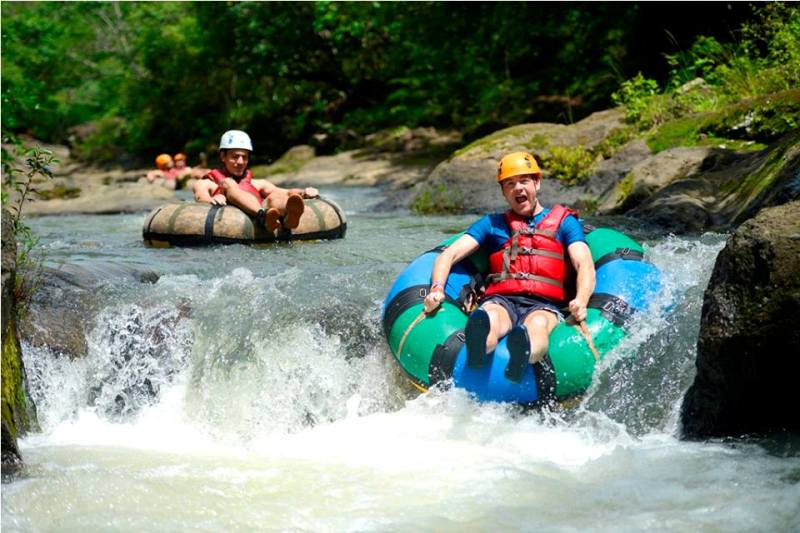 Let go of all control splashing through wild river rapids sitting in a big inflatable doughnut-like tube, and I promise you that you'll be giddy with exhilaration. The watery rollercoaster of the Rio Negro Tubing Adventure at Hacienda Guachipelin is full of excitement. The adventure guides make sure the experience stays safe.
Tell anyone to jump off a cliff and they'll think twice … especially if that cliff involves a powerful, gushing waterfall. That's the gripping adventure of Hotel Hacienda Guachipelin's Waterfalls Canyoning Tour, where you rappel down majestic waterfalls and finish with a splash into the pool below.
The electrifying excitement continues with challenging mountain biking around a live volcano, swimming under a rainforest waterfall, horseback riding in unique dry tropical forest, and hiking near boiling mud pits and steaming geysers in the Rincon de la Vieja National Park. Go for the ultimate rush combining several of the best Costa Rica adventure tours on the One Day Adventure Pass at Hacienda Guachipelin.
Hotel Hacienda Guachipelin's Adventure Center is rated No. 1 of Things to Do in Rincon de la Vieja on TripAdvisor. Open daily for both hotel guests and day visitors. Make your reservation today.
Article by Shannon Farley