Lush cloud forests and tropical biodiversity have made Monteverde, Costa Rica a must visit destination. Something else is putting it on the map these days, its coffee.  The fertile lands in the areas surrounding Monteverde, like Santa Elena and the San Luis Valley are growing the delicious bean.  You can learn about the process during coffee tours in the area, and sample a delicious cup while exploring its quaint coffee shops.
Much of the Costa Rican landscape is dotted with coffee plantations. This crop has played an important role in the country's history and development, it is one of its top exports and one of the country's claim to fame.  The crops are beautiful, and the coffee tree itself is also used as a decorative plant, because of its shiny green leaves, scented white flowers, and red "cherries", which are toasted to become what we know as the coffee "bean".
There are different coffee tours to choose from in Monteverde.  Some will take you down to the San Luis Valley, others to the Santa Elena area, where they will walk you through the steps of coffee picking and roasting and production.  You will be able to pick and sample the red berries for yourself, and drink as much coffee as you like, along with purchasing some to take home.  There are tours that combine coffee production along with cacao (chocolate) and cane sugar harvesting as well.  These options are wonderful opportunities to spend time with locals and learn about the production of a product you probably consume every day.  Some options include the Monteverde Coffee Tour, Don Juan Coffee Tour and El Cafetal Coffee Tour.  The staff at El Establo Mountain Hotel will be happy to assist in choosing the best option for you.
There are several places to choose from in Monteverde to have a coffee and a snack any time of day. One is Stella´s Bakery, offering a variety of baked goods.  Enjoy your meal in outdoor seating area and if you are lucky you can observe monkeys, raccoons and beautiful birds as you do.  More bird watching and coffee drinking options? The Café Colibrí is surrounded by the flutter of hummingbirds, stop by before of after your hike into the Monteverde Reserve for coffee, sandwiches and baked goodies.
A steaming cup of coffee overlooking the lake and gardens at Laggus Restaurant is something you will relish every day of your stay at El Establo Mountain Hotel.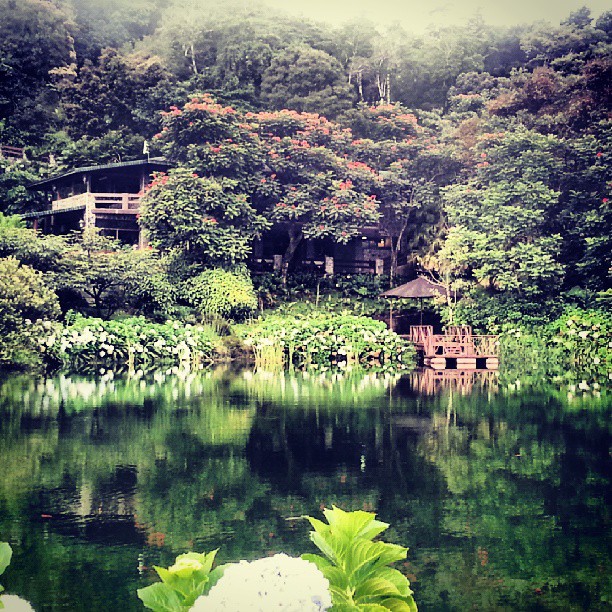 Article by Katie Widdowson