See authentic Costa Rica cowboy traditions at the weekly Saturday Cowboy Show at Hotel Hacienda Guachipelin in Guanacaste.
Article by Shannon Farley
Incredible horse riding skills, exciting bull riding, Costa Rican folkloric music, and a traditional Costa Rican oxcart – see them all on Cowboy Saturdays at Hotel Hacienda Guachipelin in Guanacaste.
Every Saturday from 4:00 to 4:45 p.m. at Hacienda Guachipelin's rodeo arena – redondel in Spanish – guests and day visitors can see authentic Costa Rica cowboys do their thing.
Hacienda Guachipelin's own ranch cowboys show off their riding skills and tricks. You'll see daring practiced ranch hands ride bulls in thrilling rodeo style.
A traditional Costa Rican oxcart pulled by Guachipelin's team of white oxen will parade through the arena. You'll marvel at how big their great curved horns are! Brightly painted wooden oxcarts, an important heritage tradition in Costa Rica, are built and decorated by hand. The oxcart also passes by the hotel's Adventure Center daily at noon for photographs with visitors.
Folkloric musicians play the traditional marimba. You can't visit Guanacaste without listening at least once to the distinct resonant percussion sounds of the national musical instrument of Costa Rica. In addition, you can listen to colorful marimba music in the evenings at Hacienda Guachipelin played by "living legend" Justo Pastor Sanchez Castillo – known affectionately to all at Hacienda Guachipelin as "Don Justo".
Learn more about the Costa Rica cowboy traditions of Guanacaste when you stay at Hotel Hacienda Guachipelin.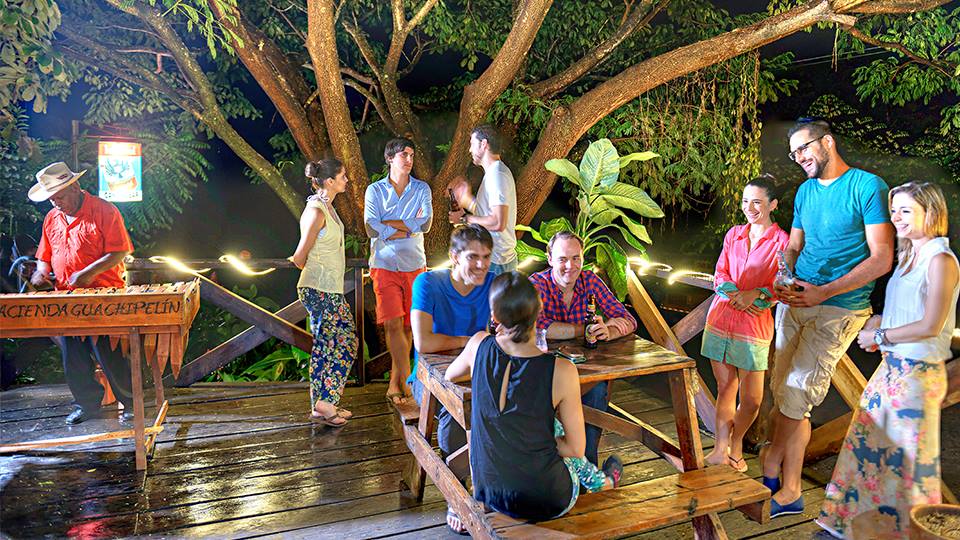 The family-owned 3,400-acre ranch, at the foot of the Rincon de la Vieja Volcano, has a long 138-year history. They raise horses, cattle, pigs, chickens and turkeys, and grow a wide variety of fruit trees along with vegetables and herbs in gardens and a greenhouse. Most of the fruit, vegetables, herbs, eggs, milk and dairy products that guests enjoy in the hotel restaurant are produced on the ranch.
Watch the ranch hands milk the cows at 6:00 a.m. every day in the corrals by Reception. You can even try your hand at it on the Cowboy for a Day Tour, where you'll take part in that day's ranch activities.
Or go on one of several Costa Rica horseback riding tours – one of the most popular activities at Hacienda Guachipelin. And don't be surprised if you fall in love with the faithful ranch dogs that seem to befriend everyone.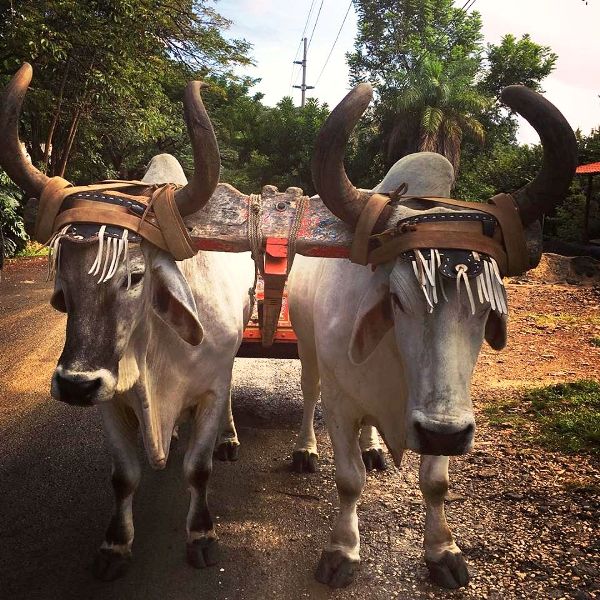 Hotel Hacienda Guachipelin
Hacienda Guachipelin is a sustainable eco-hotel in Guanacaste, Costa Rica, located spectacularly at the foot of the Rincón de la Vieja Volcano. Stay overnight in comfortable ranch-style accommodations, or enjoy the best one-day adventure tours in Guanacaste as a visitor. Located 15 miles (25 km) northeast of Guanacaste's main city of Liberia, the hotel is easily accessible from the Liberia International Airport.