The neat thing about river rafting is that you get to see parts of the country that otherwise go unnoticed.
The Peñas Blancas River in north central Costa Rica is a good example. The clear tropical river runs through the Tilaran Mountain Range, fed by pristine waters of the Monteverde cloud forest, and converges with the San Carlos River east of Arenal Volcano. While most tourists flock to the area for the famous cone-shaped Arenal Volcano, its hot springs, and the main town of La Fortuna, few experience the magical charm of drifting leisurely through lush rainforest hidden from the world on a long, winding river.
The Peñas Blancas River is a real scenic adventure. Most travelers enjoy a calm "safari float" trip to see the abundant wildlife and splendid forest and landscape, however there are rafting trips in Class II-IV whitewater on other sections of the river.
Just 20 minutes from La Fortuna, this mellow, slow-flowing section of the Peñas Blancas River is mesmerizingly peaceful. You are somewhat active, having to paddle every now and again to help your guide direct your inflatable raft more easily, so it's not all sloth. However, keep your eyes on the passing rainforest and chances are high you will
actually see a sloth, along with howler and white-faced monkeys, iguanas and other lizards, river turtles and a plentitude of colorful tropical birds. The crocodiles, though relatively small, always make me a little bit nervous as they duck in the water when you cruise past. I always wonder, "Just where did they go?" But they never fail to simply disappear and keep a respectful distance.
The Arenal Safari Floating trip on the Peñas Blancas River is a great family half-day tour in the Arenal area. Your professional guide will teach you all about the wildlife, plants and history of the river. Make sure to bring your camera and binoculars! There's even a stop m
id-river cruise to visit a local Costa Rican family living along the river bank, to learn about traditional ways of life in the area. This is where I first learned you can rub the material of those big, brown termite mounds on your skin as a natural insect repellent. It smells citrusy like citronella oil, and it works!
Valle Dorado Tours offers its Arenal Safari Floating trip on the Peñas Blancas River twice a day – in the morning and again in the afternoon. The 4-hour trip is an excellent one-day tour in the Arenal area, and perfect if you have limited time or just want an easy half-day activity.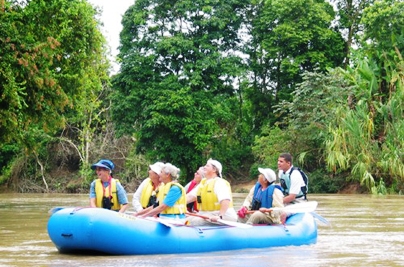 Matter of fact, Valle Dorado Tours knows all of the leading one-day tours around Costa Rica. More than 20 years of experience on-the-ground in the Costa Rica travel business, and personal inspections by their professional team of all tours, hotels, destinations, etc., ensures that Valle Dorado Tours offers you the top experiences in the country. Check out their extensive menu of one-day tours, traditional destination tour packages, thematic tour packages and customized tour packages all over Costa Rica.
Their expert travel staff can help you arrange your Costa Rica visit from start to finish; they'll recommend where to go, where to stay, and what to do. They specialize in fully customized vacation packages and making dreams come true!
By Shannon Farley
Related articles