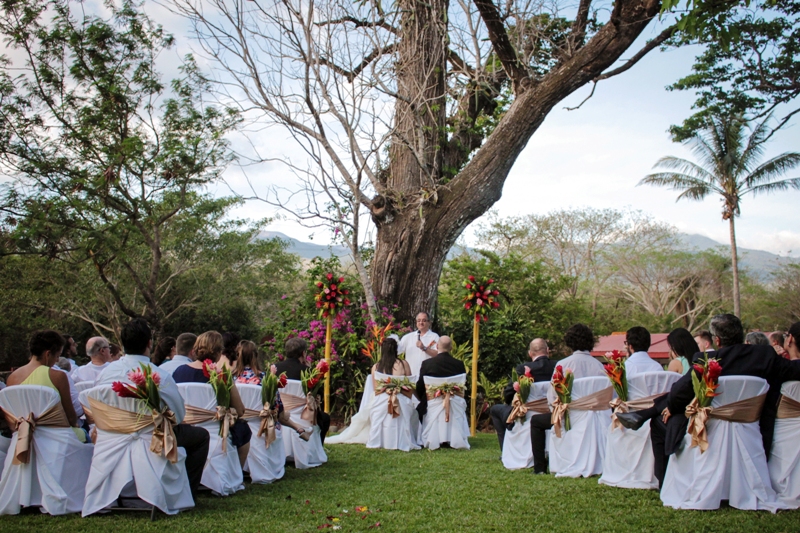 When people think of having a destination wedding, the usual locations that come to mind are picture-perfect beaches in some exotic tropical setting. But what if you and your betrothed, or your family and friends, are not really beach people?
Sure, the palm trees, turquoise-colored ocean and fiery sunsets are romantic. Then again, so are a lot of other settings.
Luckily, beaches are not your only option for a destination wedding in Costa Rica. An equally romantic choice for where to tie the knot is in the countryside of Guanacaste, Costa Rica by Rincon de la Vieja Volcano.
Costa Rica continues to be one of the most popular locations for destination weddings and honeymoons due to its warm tropical weather, natural scenic beauty, excellent services, affordability, and ease of travel. While many destination weddings in Costa Rica take place at the country's host of beautiful beaches, there are plenty of other just-as-breathtaking locales for your romantic celebration.
"People think of Costa Rica as having only beaches and rainforest and monkeys, but we have so much more," said Larissa Banting of Weddings Costa Rica. "Guanacaste is known as being the cradle of Costa Rican culture – with its music, its cooking, etc. For couples who want more of an authentic Costa Rican experience, Guanacaste is the place."
To start, Guanacaste, Costa Rica is easy to get to. Direct flights from North America and Europe arrive right in Guanacaste's Daniel Oduber International Airport in Liberia; you don't have to go to the capital city of San Jose. Rincon de la Vieja Volcano is less than an hour from the Liberia International Airport; and is only an hour from gorgeous Guanacaste beaches if you do want some time on the coast for your Costa Rica honeymoon.
It is unique to get married by a live volcano … especially one that is named after a love story (see the legend of Rincon de la Vieja Volcano). And the area is full of archaeological history with ancient stone petroglyphs, adding a Romancing the Stone feel.
"It's really powerful to get married in a place with a live volcano, and one with an ancient civilization. It's a really special place … a very spiritual place," said Banting of Rincon de la Vieja.
A special location for your romantic Costa Rica destination wedding at Rincon de la Vieja is Hotel Hacienda Guachipelin. Picture Mediterranean looking countryside and a Tuscan feel with stone walls, clay tile roofs, tall spreading shade trees, green grass and red earth. Add in dramatic tropical waterfalls, and pastoral ranch scenes with horses, and a traditional Costa Rican oxcart. All at the foot of a colossal live volcano.
Set on a magnificent traditional Costa Rican ranch, Hacienda Guachipelin is one of the best hotels at Rincon de la Vieja Volcano. Not only do you have a spectacular setting, you also can enjoy the hotel's romantic natural volcanic hot springs and take advantage of the best adventure tours in Guanacaste, Costa Rica. Just think: you have ready-made fun activities for bachelor and bachelorette parties, or group bonding before the wedding for you and your guests.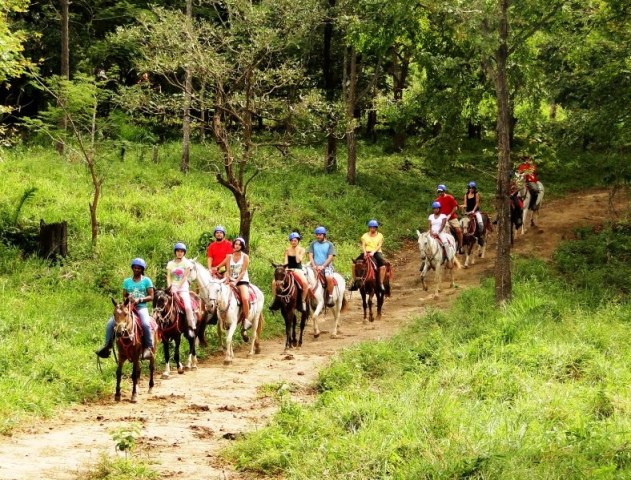 Hotel Hacienda Guachipelin offers these Costa Rica destination wedding services:
Wedding coordination for the hotel
Food and beverage. You can have your reception dinner in a private area by the swimming pool that accommodates up to 80 persons; or they have space for more persons in other areas.
Audio visual equipment and set-up
Decoration
Live musicians and entertainment
Transport to the hotel from the airport
Activities for your wedding group
Get ideas for your destination wedding in Costa Rica on the Weddings Costa Rica blog and Lazy Bride blog. See Costa Rica marriage requirements here.
Article by Shannon Farley
Related articles