If eco-friendly travel and staying at sustainable tourism eco-hotels is a priority when you go on vacation, you'll want to pay attention to Playa Nicuesa Rainforest Lodge in Costa Rica.
The Costa Rica eco-hotel was awarded the highest level rating of the Certification for Sustainable Tourism (CST) program last month for the second consecutive year. Playa Nicuesa Lodge is one of only 41 hotels in Costa Rica that have received the highest rating of 5 Leaves in the CST Program by the Costa Rican Tourism Board (ICT).
The CST program rates and certifies tourism businesses based on their compliance with natural, cultural and social resource management. CST consists of five levels, called "Leaves"; Level 5, or 5 Leaves, signifies that the company is considered "outstanding in terms of sustainability." The rating process is very detailed and involves frequent inspections and evaluations; the highest levels are very difficult to obtain.
"For all the staff at Playa Nicuesa Lodge, it is a huge honor to be able to realize our sustainability efforts to obtain the 5-leaf CST for the second consecutive year," said Marcelo Lopez, manager of Playa Nicuesa Rainforest Lodge. "Sustainability is a harmonious way of life we try to convey to each of our visitors with each of our actions, and this recognition of the daily efforts of our staff and the environmental and social consciousness that the owners, Donna and Michael (Butler), have had since the birth of Playa Nicuesa Rainforest Lodge is important to us."
"Having obtained the highest level of CST is one more way to ensure our guests that they are choosing a responsible company with the environment and the community," Lopez said.
Celebrating its 12th anniversary in 2015, Playa Nicuesa Rainforest Lodge is one of the first sustainable tourism eco-hotels in Costa Rica. Located by the Osa Peninsula in southern Costa Rica on the Pacific Coast gulf of Golfo Dulce, Playa Nicuesa Lodge protects 95 percent of its 165-acre rainforest property. The extraordinary Costa Rica eco-lodge was designed in harmony with the environment constructed from naturally fallen trees and recycled materials. Earlier this year, Playa Nicuesa received the important Ecological Blue Flag Award for the fifth time for having one of Costa Rica's cleanest beaches.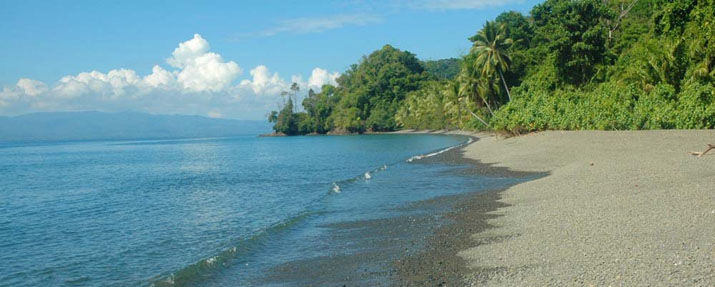 Accessible only by boat, Playa Nicuesa Rainforest Lodge fronts the pristine beaches of the Golfo Dulce, surrounded by the wild Piedras Blancas National Park. The area is part of a giant conservation area including the world-famous Corcovado National Park. The unique tropical fjord of Golfo Dulce is a critical habitat for migrating Pacific Humpback Whales, and for dolphins and sharks.
Ask how to offset the carbon emissions of your trip when you stay at Playa Nicuesa Rainforest Lodge.
Article by Shannon Farley
Related articles