Out on the calm, clear, jade green-blue water of the Golfo Dulce ("Sweet Gulf") in southern Costa Rica, it is easy to think this must be one of the most pristine, beautiful places on Earth. And it is. This inner sea is a critical habitat for endangered migrating southern Pacific humpback whales, dolphins and sharks, among other marine life.
Then our boat passes a small patch of floating plastic bottles, chips bags and other random flotsam. Trash. Human trash. And we are reminded that if anything were to ruin this amazing creation, it would be humans.

World Oceans Day on June 8 reminds us to honor and protect the beauty and life of the world's oceans. The annual event by the United Nations focuses this year on the theme "Healthy oceans, healthy planet" and especially on eradicating plastic pollution.
"The ocean and its wildlife are choking on plastic, and we need to both stop this pollution at the source, and clean it up from the coasts," states the World Oceans Day information. "The ocean is the heart of our planet. Like your heart pumping blood to every part of your body, the ocean connects people across the Earth, no matter where we live. The ocean regulates the climate, feeds millions of people every year, produces oxygen, is the home to an incredible array of wildlife, provides us with important medicines, and so much more! In order to ensure the health and safety of our communities and future generations, it's imperative that we take the responsibility to care for the ocean as it cares for us."
On the inside of Costa Rica's Osa Peninsula, Golfo Dulce is approximately 50 km (31 miles) long and 10-15 km (6 -9 miles) wide with a steeply sloped deep inner basin. It is this depth, bottoming out around 215 m (705 ft.), and low human impact of the remote, sheltered gulf that attracts large marine life.

Endangered Pacific humpback whales from the southern hemisphere migrate here every August to October to breed and give birth. The gulf is vital to the species' survival, according to the Center for Cetacean Research of Costa Rica (CEIC), which is lobbying with other environmental organizations to create a Marine Protected Area within Golfo Dulce.

Dolphins – Bottlenose Dolphins, Spotted Dolphins, Spinner Dolphins, and occasionally-seen False Killer Whales – and also sharks live in these waters. You can find tiger sharks and different species of hammerhead sharks in Golfo Dulce. The area is particularly key for hammerhead sharks, which also come to the gulf to breed and give birth – usually beginning in May. Juvenile sharks then grow for four years in unprotected areas in the Golfo Dulce, according to Andrés López, investigator for the organization Misión Tiburón (Shark Mission) in Costa Rica.
"Every day we are convinced more about the importance of Golfo Dulce for sharks. Today at dawn we marked 13 hammerhead sharks and two tiger sharks," reported Misión Tiburón on their Facebook page.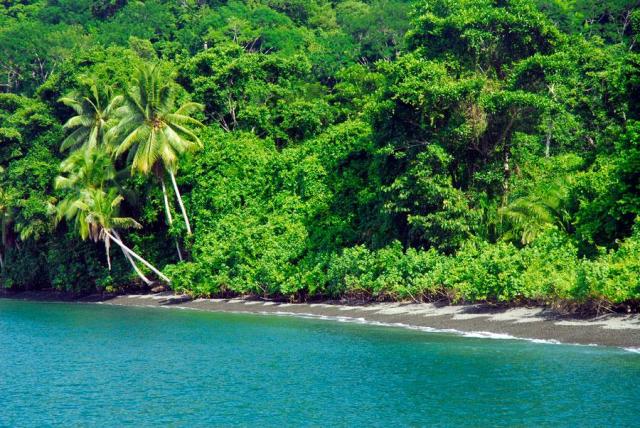 Visit Golfo Dulce in Costa Rica
See amazing marine life in the Golfo Dulce when you stay at Playa Nicuesa Rainforest Lodge in Costa Rica. Set in the rainforest on a remote beach of the Golfo Dulce, the Costa Rica eco-lodge offers boat tours in Golfo Dulce to see marine life and during whale-watching season. You also frequently can see beautiful bioluminescence in the gulf on clear nights.
Playa Nicuesa Rainforest Lodge holds the highest Certification for Sustainable Tourism (CST) in Costa Rica, and recently received the Ecological Blue Flag Award for the fifth time for keeping one of the cleanest beaches in Costa Rica free of trash and pollution.
Contact Playa Nicuesa Rainforest Lodge to visit the unique nature and adventure travel destination.
Article by Shannon Farley
Related articles