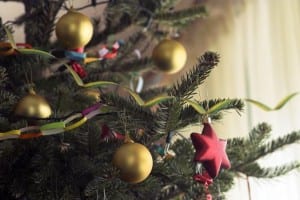 Have you heard the one about the visiting tourist enjoying Costa Rican tamales? He says, "They're really delicious, but the lettuce is little tough!" (Costa Rican tamales are wrapped in green banana tree leaves.) Ho, ho, ho!
Tamales are one of the most time-honored Christmas traditions in Costa Rica. Like the rest of Latin America, tamales are a principal part of Christmas dinner. In Costa Rica, tamales are made from corn flour and are filled with many different ingredients, such as potato puree, rice, vegetables, garlic and onions, and shredded pork or chicken or beef, all wrapped in banana leaves and tied with string into squares, and boiled.
Costa Rica's Christmas celebration begins on Christmas Eve, or "Noche Bueno," when people visit family and friends for elaborate dinners of roast pork leg, tamales, pastries and other desserts. Eggnog ("rompope"), heavy with rum, is drunk while family members exchange presents before midnight. Catholics then head to Christmas Eve Midnight Mass (a two-hour marathon). As you can imagine, Christmas Day is a day for relaxing and enjoying family and presents.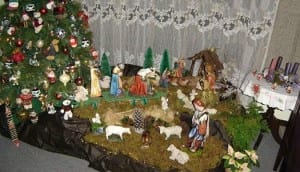 Costa Rica's houses and public buildings are decked out in elaborate Christmas decorations and lights – the more flashing patterns the better! It's fun to drive around at night to see all of the displays. Christmas trees – either fresh-scented real cypress trees or artificial trees – are put up with bright lights and ornaments, often swathed in colorful gauze and ribbons, with a gold star on top.
Costa Rica Christmas traditionally centers on the Christ child and Holy Family, and the "Portal" or Nativity scene is an essential element in families' celebrations. A family's "portal" often occupies a large space in the living room or a patio. On Christmas Eve, Baby Jesus is placed in the manger just before the family goes to Christmas Midnight Mass. The Three Kings join the Nativity Scene on January 6.
Students are out of school in December, starting their long "summer vacation" until February. Rainy season has ended, replaced with dry cool winds, sunny days, clear and starry nights, and cooler temperatures in the Central Valley. It's time to celebrate!
Traveling in Costa Rica during December is a culture-rich experience full of holiday traditions and grand fiestas and festivals. Get the best travel information on where to go, hotels, tours and transportation in Costa Rica from 2Costa Rica Travel. They offer customized Costa Rica vacation packages, and can help with all of your travel plans.
Article by Shannon Farley