When is the best time to travel to Costa Rica? Well, that all depends on what you're looking for. See our quick calendar guide for when and where to go.
Article by Shannon Farley
Just a few hours' travel from most of the United States and easily accessible from Europe and Canada thanks to nearly a dozen direct flights, Costa Rica is one of the world's most popular vacation destinations.
Offering 800 miles of coastline on two oceans and 25.6% of its territory preserved in national parks and private reserves, Costa Rica is a nature-lover's paradise. Its biodiversity is extraordinary – holding almost 6% of the world's biodiversity in a country only about the size of Denmark. This is because the country's geographical position in Central America has served as a bridge for countless species of animals and plants for thousands of years.
So, when is the best time to travel to Costa Rica? And where should you go? Well, that all depends on what you're looking for.
Because of its tropical location near the equator, and being a country composed of microclimates, you can enjoy good weather pretty much all year long in Costa Rica. More or less, there are two seasons: dry and rainy. But since Costa Rica is crossed by mountain ranges from northwest to southeast, which act as a meteorological divide, Pacific and Caribbean climates are distinct.
In terms of wildlife, you can see sea turtles come ashore to lay their eggs almost year round, enjoy whale watching for almost seven months, and witness one of the largest bird migrations on the planet during certain times.
Based on a calendar year, here is a quick guide to when is the best time to travel in Costa Rica for weather, wildlife, nature and crowds.
January to February
Dry season on the Pacific Coast and Central Valley (roughly from December to April). You can depend on sunshine and warm temperatures.
This period – lasting until after Easter – is high tourist season, although there is a short lull for a few weeks right after New Year's. Prices reflect the demand.
It's a great time to go to Pacific Coast beaches, like Hermosa, Tamarindo, Flamingo, Samara, Nosara, Santa Teresa, Jaco, Manuel Antonio and Dominical.
Strong trade winds cross the country creating ideal windsurfing and kite surfing conditions off the northern Guanacaste coast. There is also good surfing along the Pacific Coast.
The marshy wetlands of Palo Verde National Park in Guanacaste are filled with migrating and native birds, including endangered species like the Jabiru Stork.
Best time to hike in national parks like Corcovado, Rincon de la Vieja and Arenal Volcano, and visit the famous sky blue river, Rio Celeste.
It also is the best time to climb Mt. Chirripo, Costa Rica's highest mountain (3,820 m / 12,533 ft).
February begins nesting season for Quetzales in the cloud forests.
Humpback whales from North America migrate down the Pacific Coast past Guanacaste and Manuel Antonio to the Ballena Marine National Park (December to April).
Festival season starts on Christmas Day in San Jose and continues during dry season with Costa Rican style fiestas all over the country, usually until after Easter.
January is the heaviest rainy period in the Caribbean region.
March to April
The Caribbean region stays green all year long from consistent rains; however they lessen in March, April, July and August.
Leatherback sea turtles, the largest sea turtle in the world, come to Tortuguero National Park on the Caribbean Coast to lay their eggs from February to June, with the peak time in March and April.
From March to July, four species of sea turtles (Green, Hawksbill, Loggerhead and Leatherback) arrive to nest in the Gandoca-Manzanillo Wildlife Refuge on the southern Caribbean Coast.
May and June
The Pacific region transitions into rainy season (May to November) gradually with showers that become more frequent in June. The usual pattern is sunny mornings with afternoon or evening rains. The nice thing is the rain cools down temperatures and paints gorgeous green landscapes.
Occupancy rates and lodging prices drop at the end of April; and crowds lessen considerably after Easter until about the middle of June when northern summer vacationers start to arrive.
This is a good time to go whitewater rafting since the river levels rise from rain, creating more rapids, more adrenaline, and more fun!
The surfing waves start to get bigger on the Pacific Coast as well.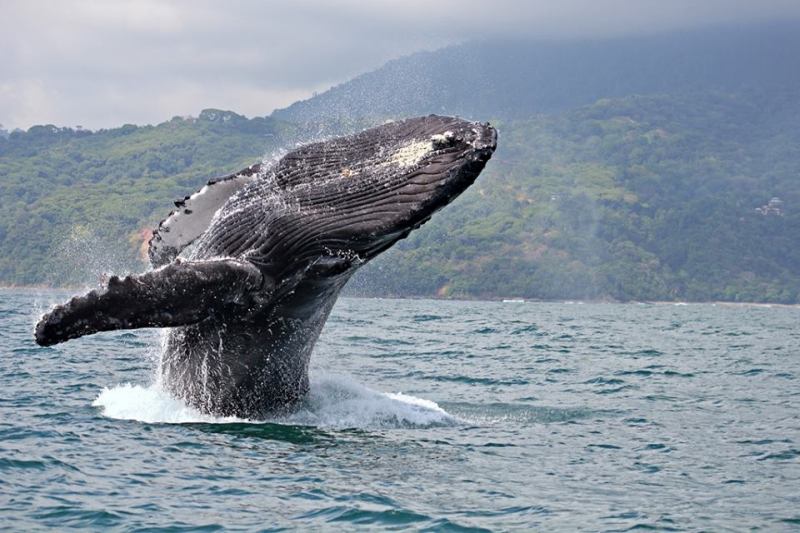 July and August
Usually at the beginning of July, there is a "little summer" period of a few weeks with less rain.
Costa Rican schools have a two-week break at the beginning of July, when families go on vacation around the country. It is also a mini-high season in July and August with northern countries' summer vacationers.
The country celebrates the annexation of Guanacaste from Nicaragua (1824) on Guanacaste Day on July 25 with parades, folk dancing, traditional bullfights, rodeos and cattle auctions.
From July to December (peaking in September and October), Olive Ridley, Leatherback and Pacific Green sea turtles return to the beaches of Ostional, Nosara and Guiones in the Ostional Wildlife Refuge to nest. It is one of the two most important nesting areas in the world for Olive Ridley turtles. Called arribadas, huge numbers of Olive Ridley turtles come ashore all at once several times during this period.
Tortuguero is the most important nesting site for Green turtles in the western half of the Caribbean. They nest here from July to mid-October (peak: August and September).
National Geographic calls Costa Rica the "seventh most important whale watching hotspot in the world". From July to October, humpback whales from Antarctica migrate to Costa Rica's Pacific Coast in the Ballena Marine National Park and gulf of Golfo Dulce, and along the Osa Peninsula.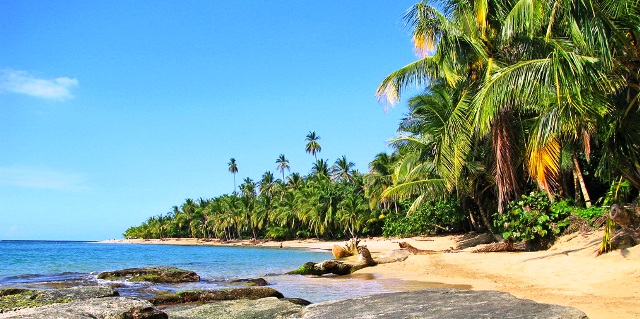 September and October
The heaviest rains in the Pacific region and Central Valley are in September and October. This means rock-bottom prices in hotels.
Luckily, this time corresponds precisely to dry "summer" season in the Caribbean region. This is the time of year to go snorkeling in the crystal-clear waters of the Cahuita National Park, home of the largest coral reef on Costa Rica's Caribbean Coast. It also is a good time for dolphin watching tours by Gandoca-Manzanillo National Wildlife Refuge.
Costa Rica's Independence Day on Sept. 25 is feted nationally with parades and concerts.
October and November bring the huge bird migration from cold climates in the north to tropical places like Costa Rica.
November and December
Rainy season starts to transition to dry season on the Pacific side of the country. Trade winds begin in December dropping the temperatures in the Central Valley.
December marks a return of the rains to the Caribbean region. It also heralds the Caribbean surfing season that lasts through March.
Leatherback sea turtles arrive to the Las Baulas National Park in Guanacaste to lay their eggs from November to March.
December starts northern humpback whale migration down Costa Rica's Pacific Coast.
Christmas season is vibrant and lively in Costa Rica, especially in the capital city of San Jose. The lighting of two massive Christmas trees in front of the Children's Museum and the Children's Hospital take place usually during the first week of December. Followed by the Parade of Lights in San Jose the second Saturday of the month. The huge San Jose carnival, or "Fiestas", begin in Zapote on Christmas Day and continue for two weeks. The San Jose tope, or horse parade, is always on Dec. 26 and the "Carnival" parade on Dec. 27. Plus, it is a time of Christmas concerts and beautiful lights and decorations around the country.