While Christopher Columbus is remembered in the USA in the upcoming October holiday, many other countries take a much broader perspective for their celebrations.
The USA observes Oct. 12 (or the Monday closest to it) as Columbus Day for the date that explorer Christopher Columbus arrived in the Americas in 1492. Spain commemorates Oct. 12 is Hispanic Day. But the holiday in the Bahamas is known as Discovery Day, in Belize as the Day of the Americas, and the Day of Respect for Cultural Diversity in Argentina. Chile and Mexico celebrate it as Day of the Races, and Venezuela lauds the Day of Indigenous Resistance. In Costa Rica, Oct. 12 honors the Day of Cultures (Día de las Culturas), in recognition of all of the cultures that have formed the Central American country.
Christopher Columbus did land in Costa Rica, in what is now the Caribbean port city of Limón on Sept. 18, 1502 – his fourth voyage to the New World. However, his "discovery" was purely from the European side, since indigenous peoples had already been living in the area for at least 10,000 years.
The Spanish had the greatest cultural influence over the majority of Costa Rica, but on the Costa Rica Caribbean Coast it was former African slaves from Jamaica who developed that region's rich cultural style. They along with workers from China and other Caribbean islands were brought to Costa Rica in the late 19th century to build the railroad connecting the Port of Limón with San José.
Limón and the southern Caribbean Costa Rica towns of Cahuita, Puerto Viejo and Manzanillo have a thriving Afro-Caribbean community. Costa Rica's Caribbean culture is so unique that it's almost like going to another country to visit the area.
October holidays in Costa Rica include Carnival on the southern Costa Rica Caribbean Coast. The Limon Carnival will be held Oct. 19 to 21. People everywhere come to enjoy Caribbean culture with parades, concerts, lots of drums and even more dancers in a huge street party.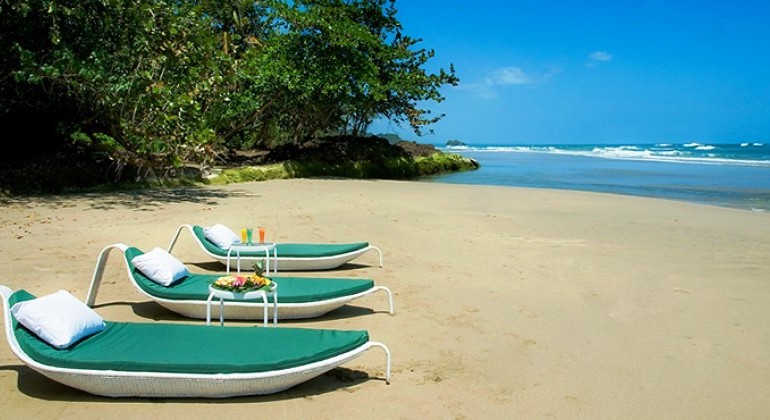 While the rest of Costa Rica is rainy this time of year, October is Costa Rica Caribbean Summer. Get great Caribbean Summer special deals at Le Caméléon Hotel on the gorgeous beach of Playa Cocles by Puerto Viejo Costa Rica. Through Oct. 31, you can receive 30% discounts on direct bookings from Sunday to Thursday; and 20% off on Fridays and Saturdays. If you stay 3 or more nights, Le Caméléon will give you a $50 credit to use in the restaurant or the Spa. Make last-minute reservations on their website and you can possibly find discounts of up to 50% off.
Article by Shannon Farley
Related articles