Conservationists and ecotourism businesses in the Osa Peninsula region have launched a new program for jaguar conservation in Costa Rica.
Article by Shannon Farley
The wild and remote Osa Peninsula region in southern Costa Rica is one of 90 Jaguar Conservation Sites in the world. It is currently the most important place for jaguar conservation in Costa Rica.
A trailblazing project to help save the largest cat species in the Americas recently was launched around the Osa Peninsula and gulf of Golfo Dulce. Led by the nonprofit Osa Conservation, a region-wide network of camera traps has been set up to capture images of jaguars (Panthera onca) in the wild to help determine the species' current population density in Costa Rica.
Jaguars are critically endangered in Costa Rica and on the IUCN Red List as threatened worldwide. While they are protected in Costa Rica – as well as in 12 other countries in North and South America – the population is declining here, according to 25 years of research by the National University of Costa Rica (UNA).
The large cats face pressures such as habitat fragmentation, decrease of natural prey (due to humans and lack of habitat), and increasing conflicts with humans over livestock kills.
"These cats need large territories and connectivity between forested areas, or biological corridors. Habitat protection and focus on these corridors is one tool in our kit, but in order to identify corridors in the (Osa) Peninsula and make informed decisions, we need accurate information on their presence and abundance," states Osa Conservation.
More than 20 organizations so far are participating in the Osa Camera Trap Network, including eco-hotels like Playa Nicuesa Rainforest Lodge, local communities, government agencies, nonprofits, and national and international universities such as Costa Rica's UNA.
The area under study encompasses the Corcovado National Park, Piedras Blancas National Park, the Golfo Dulce Forest Reserve, and several private reserves. The land was divided into quadrants of 44 km. Each quadrant has a camera trap station with two cameras, placed in areas with high probability of jaguar presence.
A motion sensor triggers the cameras to take pictures, day and night. So every time an animal passes by, the cameras gather photographic evidence that scientists can use to learn about population trends and the health of the forest. Jaguars, and other spotted feline species, have distinctive patterns in their fur that identify them individually.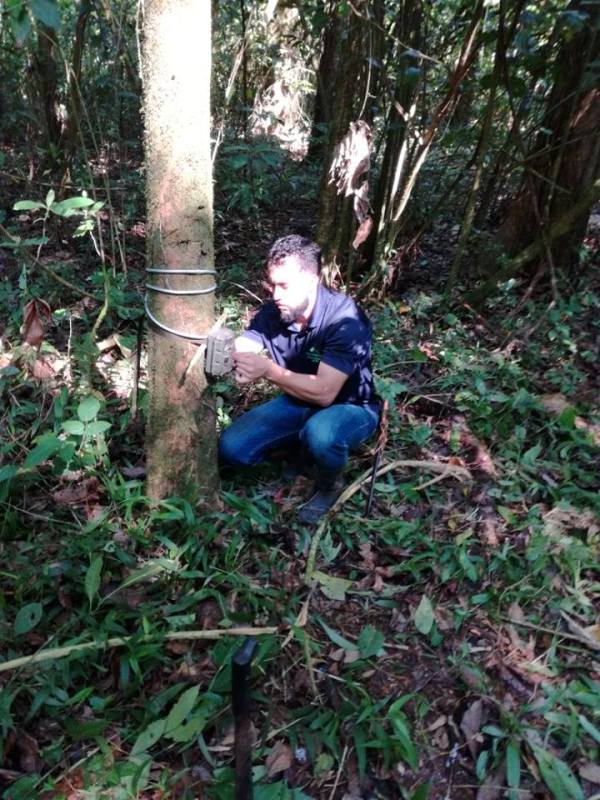 Nicuesa Lodge already has several camera traps placed in their 165-acre private rainforest reserve that borders the Piedras Blancas National Park. For the Osa Camera Trap Network, staff installed a new station with two cameras in the lodge's reserve, and additionally helped Osa Conservation biologists put two more cameras in a station in the national park. Nicuesa staff is in charge of monitoring the two quadrants.
Network cameras were placed at the end of February and beginning of March, and will be removed between the end of May and the beginning of June for analysis.
In addition to jaguars, scientists will use the images taken to estimate the types and numbers of species of terrestrial mammals among the different protected areas in the Osa Peninsula. The information also will help to evaluate the region's biological corridors.
The Osa is one of the last places in Central America where there is a concentration of jaguars, along with four other species of wild cats: Margays (Leopardus wiedii), Ocelots (Leopardus pardalis), Jaguarundis (Puma yagouaroundi), and Pumas (Puma concolor).
The overall range of jaguars extends from northern Mexico and most of Central America to South America, with the greatest concentration in the rainforest of the Amazon basin. The World Wildlife Fund (WWF) in 2013 estimated there to be only 15,000 jaguars left in the wild.