Tortuguero is like the imaginary jungle coast in Maurice Sendak's "Where the Wild Things Are." It is a wild place.
You can just imagine what was going through Christopher Columbus' mind when he anchored off the palm-fringed beach in 1502 … "I have come to the end of the earth," he must have mused.
The Tortuguero coast
along Costa Rica's northern Caribbean region is a 22-mile-long, desolate, volcanic black sand beach littered with driftwood and tree logs tossed up on shore from wild ocean storms. There is nothing but beach and low, swampy jungle for miles and miles. You can't swim here because of rough surf, strong currents and sharks that will eat you – adding to the isolation.
That's just perfect for the Green Sea Turtles and Leatherback, Hawksbill and Loggerhead Sea Turtles that have been coming here since at least 1592, according to scientific records, to nest and hatch their young in Tortuguero's extreme solitude. Tortuguero beach is recognized as the most important nesting site in the Western Hemisphere for the endangered Green Sea Turtle. Th
e turtle population came perilously close to extinction in the 1960s when nearly every female turtle arriving to lay its eggs was poached and killed for turtle soup. The Caribbean Conservation Corporation, now known as the Sea Turtle Conservancy, put a stop to that after forming in 1959 to study and protect the Caribbean Sea turtles. The name "Tortuguero" means "turtle catcher" in Spanish.
The Tortuguero National Park was founded in 1970, and now protects more than 46,900 acres (19,000 hectares) along with the 22 miles of nesting beach from the mouth of the Tortuguero River south to Parisimina. The national park and the Barra del Colorado Wildlife Refuge to the north comprise the largest remaining area of lowland wet tropical forest on Costa Rica's Caribbean Coast.
This untamed stretch of coast is connected to Limon, the Caribbean Coast's only port city 50 miles (80 km) to the south, by a series of rivers and canals that parallel the sea. It is a special and widely varied ecosystem web of marshy islands, beaches, canals, lagoons and dense rainforest that is habitat for a multitude of animal and plant life. A trip up the serpentine maze of canals is likened to cruising on the Amazon, albeit on a much smaller scale.
In this steamy labyrinth of coastal rainfores
t, swamps and waterways, live howler, spider and white-faced monkeys, three-toed sloths, toucans, and animals threatened with extinction like jaguars, tapirs, Great Green Macaws and West Indian Manatees. About 405 bird species, 400 kinds of trees, 2,200 types of plants, and a host of amphibians, reptiles and insects can be found here.
It is hot, and its rain storms are awe-inspiring. There is no dry season in Tortuguero; nearly 20 feet (6,000 mm) of rain falls annually. The wettest months are December, June and July, and the driest are February, March and September, but you can get rain anytime. This is a place for which "Banana Republic" clothing was intended. You've got a small village now sustained almost entirely by ecotourism, with an interesting mix of cultures: Hispanic, Miskito Indian and Afro-Caribbean. Both Spanish and Creole English, called patois, are native tongues.
You'll want to come to Tortuguero either from July to October when the Green Sea Turtles come to nest, or from March to May when the giant Leatherback Sea Turtles arrive en masse. Female turtles usually come ashore at night under a waning moon, and you'll need to go on a guided tour to be able to visit the beaches since no one is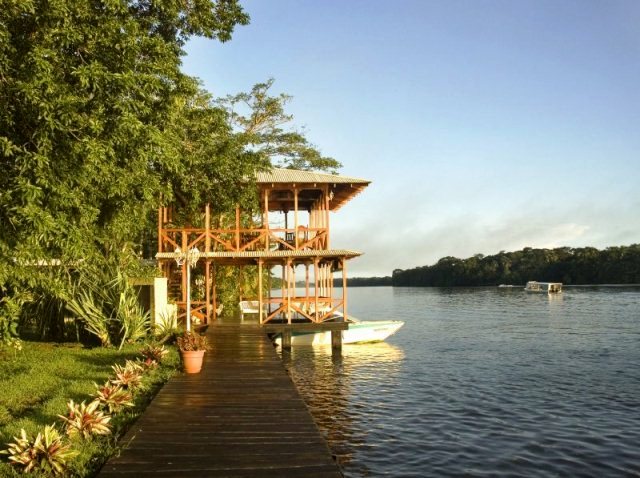 allowed on the beach unaccompanied after 6:00 pm to prevent poaching. The best way to see Tortuguero National Park is by river boat tour.
One of the finest places to stay in Tortuguero is Manatus Hotel. The small, enchanting boutique hotel gives you romantic exotic beauty, comfortable luxurious rooms and facilities, and delicious Caribbean-fusion gourmet cuisine, all in the wild adventure of this world-famous natural sanctuary. The Manatus Hotel has received i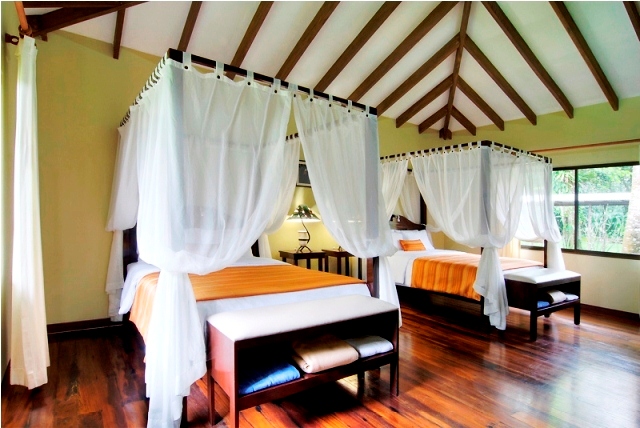 nternational awards for its support of programs to protect the endangered Manatees in Tortuguero. Take advantage of the special "Two Nights, Three Days" at Manatus Hotel provided by Enchanting Hotels.
If you enjoy nature and being out "where the wild things are," Tortuguero is your perfect peaceful and romantic getaway.
By Shannon Farley
Related articles