In Costa Rica's land of cowboys, Hotel Hacienda Guachipelin by Rincon de la Vieja Volcano is the place to experience pure nature, adventure, and rich traditions.
Dating all the way back to 1880, the rich traditions of ranching and cowboy life in Guanacaste, Costa Rica are deeply rooted at Hotel Hacienda Guachipelin. Uniquely situated next to the Rincon de la Vieja Volcano and National Park, Hacienda Guachipelin is the ideal setting to explore one of the country's most active volcanoes and interesting regions. It is a place to experience pure nature, adventure and colorful traditions.
Experience Pure Nature
Wake up to the sounds of howler monkeys in the forest, welcoming the sun for another beautiful day. Go for an early morning bird-watching walk through Hacienda Guachipelin's lush gardens and see what other wildlife you can spot. Maybe you'll see a sloth, or a white-nosed coati, or a troop of white-faced monkeys. Most likely you'll be accompanied by one or more of the hotel's friendly ranch dogs.
In Rincón de la Vieja National Park, you have the potential to see any of the 300 bird species that live there along with mammals like armadillos, collared peccaries, coatis, iguanas, and three kinds of monkeys: white-faced, howler and spider monkeys.
Rincón de la Vieja is the largest and most active volcano in Guanacaste, Costa Rica. Steaming fumaroles, mini-geysers, bubbling volcanic clay, natural hot springs and waterfalls at Rincón de la Vieja give you a volcanic experience like no other in Costa Rica.
Enjoy Adventure
Rated No. 1 of Things to Do in Rincon de la Vieja on TripAdvisor, you'll find the best Costa Rica adventure tours at Hotel Hacienda Guachipelin. From zip lining to waterfall rappelling, river tubing, hiking, hot springs and horseback riding, dozens of activities are available at their Adventure Center. Get the best combination of tours with the One Day Adventure Pass.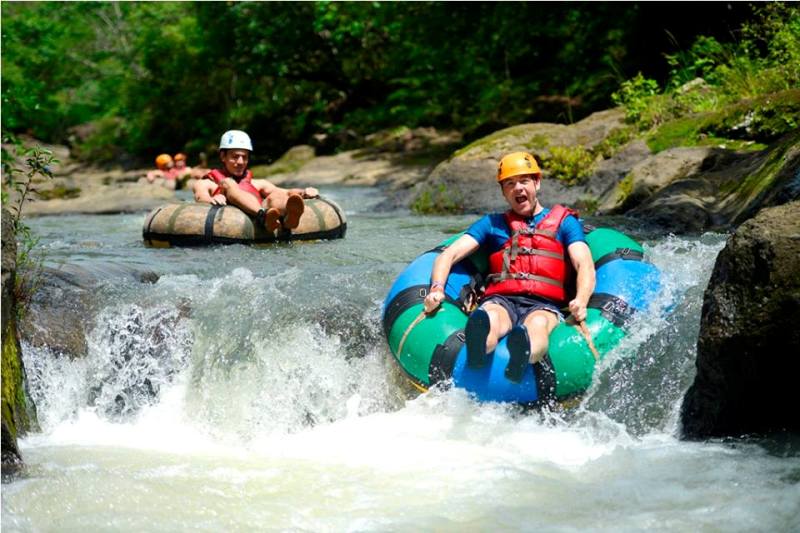 Hacienda Guachipelin now offers mountain biking tours at Rincon de la Vieja on three trails of varying difficulty – the only such trails in Costa Rica to be found on an active volcano.
Live Tradition
Get moving in the morning with Hacienda Guachipelin's sabaneros – Costa Rican cowboys – as they milk the cows and ready the horses for a day out on our ranch or one of our popular horseback riding tours. You'll know that your milk at breakfast is the freshest.
The 3,400-acre hacienda ranch has been in existence since 1880 – 136 years! They raise horses, cattle, pigs, chickens and turkeys, and grow a wide variety of fruit trees along with vegetables and herbs. Fresh farm-to-table Costa Rican meals you will enjoy in the hotel restaurant are made with produce from the ranch.
Don't miss the opportunity to experience the beauty and vibrant traditions of Costa Rican life at Rincon de la Vieja Volcano and Hacienda Guachipelin.
Article by Shannon Farley
Related articles