Half the adventure of visiting Playa Nicuesa Rainforest Lodge is getting to the award-winning Costa Rica ecolodge near the Osa Peninsula.
Flying down the Pacific Coast of Costa Rica toward the Osa Peninsula and southern region is incredible. Morning hours give us clear visibility as we leave San Jose and the Central Valley, rising above rugged green mountains and little villages. I can spot waterfalls in remote canyons that maybe no one's ever visited.
Manuel Antonio National Park passes behind us, and then we're at Ballena Marine National Park – it's amazing "whale's tail" sand spit outlined boldly by low tide. The Sierpe River, at the entrance to the Osa Peninsula, looks like a huge silver snake winding through a carpet of green jungle; this is one of the largest last-remaining lowland coastal jungles in Central America. As we pass over low mountains, Drake Bay and Cano Island in the Pacific are on our right, and the beautiful blue and turquoise gulf of Golfo Dulce are to the left.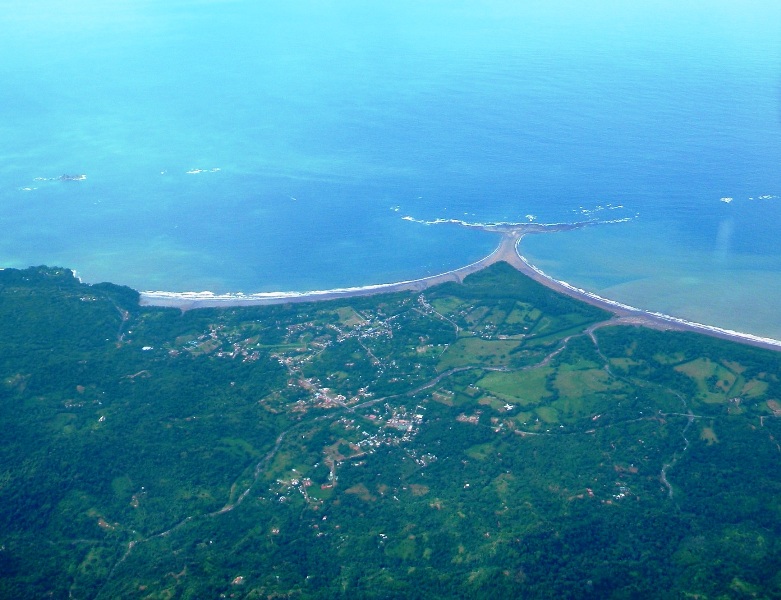 I'm on my way to visit Playa Nicuesa Rainforest Lodge, an award-winning Costa Rica ecolodge near the Osa Peninsula and a member of Enchanting Hotels of Costa Rica. Nicuesa Lodge is only accessible by boat on the Golfo Dulce, and it borders the remote Piedras Blancas National Park. The best part about getting to Nicuesa Lodge is that it's an adventure!
To get to Playa Nicuesa Rainforest Lodge, you can either drive or fly to either the towns of Puerto Jimenez or Golfito. Hotel staff will pick you up at either place and take you across the gulf by boat to the lodge on its 165-acre private reserve.
After we land at the simple air field in Puerto Jimenez, the pilots unload the luggage onto the tarmac and we just pick up our bags and go. A Nicuesa Lodge representative meets us and takes us by taxi to the boat dock.
Our adventure continues skimming across the calm blue-green waters of the Golfo Dulce in one of the lodge's canopied boats. The trip takes about 35 minutes, and we keep an eye out for dolphins, sea turtles, and sea birds like pelicans and Frigatebirds. We are told that in August or September you can see migrating humpback whales.
The scenery is mesmerizing. The coastline is dense with green forest and low mountains, and the gulf reflects the immense sky. There are no buildings to be seen, and I wonder if this is what Costa Rica looked like hundreds of years ago.
Soon we arrive in a small bay to the long boat dock at Playa Nicuesa Rainforest Lodge. Here, the clear water looks like liquid jade, reflecting the endless shades of green palm trees and rainforest that crowd the edge of the pebble and sand beach. We are helped off the boat by smiling, friendly staff, and as we walk down the dock toward shore, I feel like I am on Fantasy Island.
Welcome to paradise!
How to Get to Playa Nicuesa Rainforest Lodge by Flying
Flying is the fastest and easiest way to get to southern Costa Rica and Playa Nicuesa Rainforest Lodge. Both domestic airlines of Nature Air and Sansa Airlines offer several flights a day departing from the Juan Santamaría International Airport by San Jose. You may reserve your flights online, or Nicuesa Lodge's reservations staff can help you with these arrangements.
The flight takes approximately 50 minutes to arrive to either Puerto Jimenez, on the Osa Peninsula side of Golfo Dulce, or Golfito which is on the eastern coast. Sightseeing is excellent while flying in small 19-passenger planes that are twin engine and meet all safety standards. Have your camera ready!
How to Get to Playa Nicuesa Rainforest Lodge by Driving
Driving is a slower, more scenic way to get to Playa Nicuesa Rainforest Lodge that lets you experience the picturesque landscapes of Costa Rica. The drive time is approximately 5 hours on well-maintained roads to travel the 329 km between the Juan Santamaría International Airport and Golfito, recommended by Nicuesa Lodge as the place to leave your vehicle.
The easiest route is to drive down the Coastal Highway (Route 34) past the colorful beach towns of Jaco, Quepos, Dominical and Uvita; and continuing on the Pan-American Highway (Route 2) to the town of Rio Claro where you take Route 14 toward Golfito.
In Golfito, Nicuesa Lodge recommends parking your car at Samoa del Sur Restaurant and Cabins by the marina, which has 24-hour security. The cost per day for parking there is $15.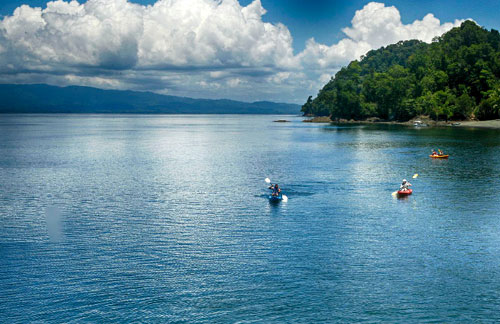 Since Playa Nicuesa Rainforest Lodge is remotely located, included in your reservation are all of your meals and snacks and boat transfers. You also have included unlimited self-guided hikes in their reserve, and free use of kayaks, stand-up paddleboards, snorkeling and fishing equipment. There are many nature and adventure tours available (for a fee) which you can enjoy with Nicuesa's excellent naturalist guides.
Take advantage of Nicuesa Lodge's special promotion through Dec. 15, 2016: Reserve 3 nights and get the 4th night free!
Article by Shannon Farley
Related articles