For your next yoga retreat or yoga vacation, enjoy paradise at top Costa Rica yoga vacation destination Playa Nicuesa Rainforest Lodge.
Imagine leaving behind the hectic fast pace of everyday life to restore your energy, strengthen your body, and relax your mind on a Costa Rica yoga vacation amid lush jungle, in the sunshine, with tranquil 80-degree ocean gulf waters lapping at your doorstep.
Turn your next yoga retreat into a yoga vacation in paradise at Playa Nicuesa Rainforest Lodge in Costa Rica.
The remote eco-lodge near the Osa Peninsula is beachfront on the picturesque Pacific gulf of Golfo Dulce, set on a 165-acre private reserve adjoining the Piedras Blancas National Park. Breathtakingly beautiful, this is the place to go to for secluded beaches, lush rainforest, exotic wildlife, and getting away from it all to relax.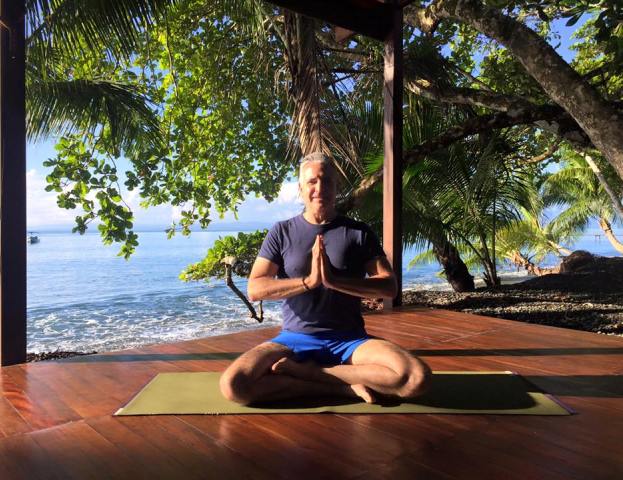 Yoga at Nicuesa Lodge is a magical sensory experience. The all-natural tropical wood yoga deck is positioned on the beach at the gulf's edge, framed by palm trees and jungle, and covered from the elements. Monkeys and Scarlet Macaws play in the trees. Dolphins and whales frolic offshore. Practice yoga and meditate to the sounds of nature. Hear the splash of waves. Feel the caress of ocean breezes. Exhale stress and slow down.
Playa Nicuesa Rainforest Lodge offers a unique, exotic destination for yoga instructors to hold group retreats and yoga vacations in Costa Rica. See the events schedule.
Additionally, Nicuesa Lodge features a year-round resident yoga instructor-massage therapist program and always welcomes new applicants. Hosting a highly-qualified certified practitioner to live at the lodge gives the flexibility for guests to have daily morning and afternoon yoga practice, as well as a variety of massage options.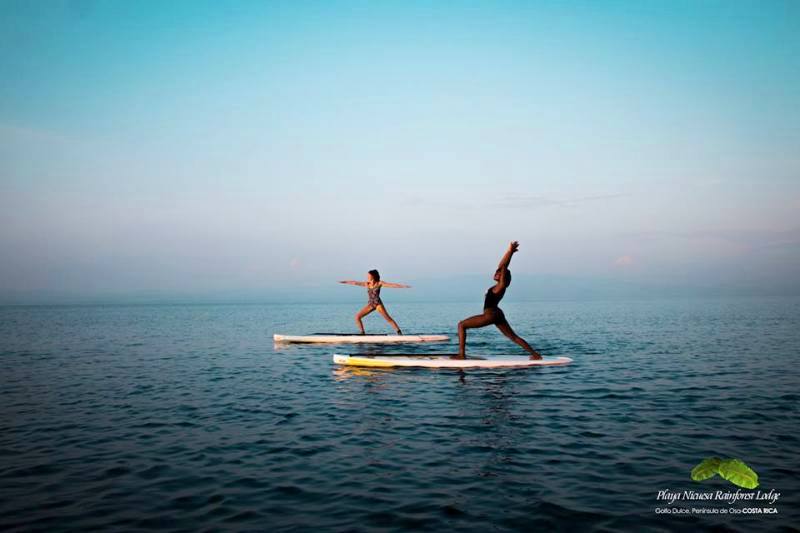 Not looking for a yoga retreat, but want your own private yoga vacation? Rediscover what's really important to you, and experience life on a more conscious level with the Yoga Bliss Vacation Package at Nicuesa Lodge, lasting five to seven nights with yoga classes, activities, accommodation, all meals, and transfers included.
Yoga classes at Nicuesa Lodge are specifically designed by the resident yoga instructor based on their training and yogic influence. Some classes might be restorative, while others are invigorating. Whether beginner or advanced, private or group session, each guest is personally attended to during the yoga practice.
If eco-friendly travel is important to you, the Costa Rica rainforest hotel holds the highest Certificate for Sustainable Tourism (CST) by the Costa Rica Tourism Board and the prestigious TripAdvisor GreenLeaders Platinum Status. In addition, Playa Nicuesa Rainforest Lodge is a member of Enchanting Hotels of Costa Rica and in the TripAdvisor Hall of Fame.
Where is Playa Nicuesa Rainforest Lodge?
Playa Nicuesa Rainforest Lodge is located in southern Costa Rica on the Pacific gulf of Golfo Dulce, directly across from the Osa Peninsula. Part of your adventure at Nicuesa Lodge is getting here. You can either take a domestic flight or drive to the gulf towns of Puerto Jimenez or Golfito. The lodge is only accessible by water. Nicuesa staff will meet you in either town and transport you in one of the lodge's boats.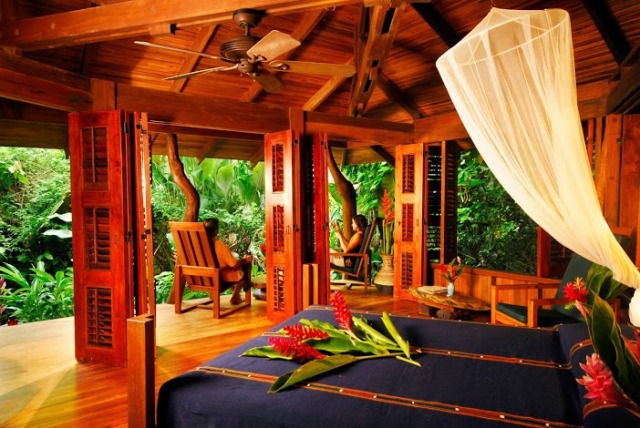 What is it like at Playa Nicuesa Rainforest Lodge?
You'll receive a warm welcome and become part of our extended family while here. Our Nicuesa Lodge staff pride themselves on giving friendly excellent service. You will enjoy jungle-chic accommodations in private cabins and guestrooms in the rainforest along the gulf. All-inclusive meals combine creative Costa Rican cuisine and international dishes with an emphasis on fresh fish, tropical fruits and fresh vegetables, many of which are grown in the lodge's hydroponic garden.
Guests have unlimited use of paddle boards, kayaks, fishing and snorkeling gear, and access to the trail system through Nicuesa's private reserve adjacent to the Piedras Blancas National Park.
Article by Shannon Farley
Related articles