Windy summer season in Guanacaste, Costa Rica means it's time for fun wind and water sports.
But why is it so windy in Costa Rica this time of year? Blame it on the Papagayo winds.
NASA tells us that when it is freezing cold and snowing in North America, the cold air and high-pressure weather systems move south over the Gulf of Mexico. The cold air is drawn toward the warmer, moist atmosphere over the Pacific Ocean, flowing from high pressure to lower pressure like a river flows downhill. Named after the Gulf of Papagayo in Guanacaste, Costa Rica, the winds then channel through a gap in the Central American Cordillera Mountains and shriek over Lake Nicaragua, blowing over the Gulf and far out into the Pacific Ocean. The good news is they provide a purpose. Papagayo winds carry nutrient-rich dust into the ocean, providing nourishment for diverse marine life ranging from algal blooms to marlin and sailfish.
In January, February and March in Costa Rica, when the sun shines intensely and the wind blows, it's time for fun wind and water sports in the clear blue Pacific Ocean.
Go fly a kite. This time of year, Guanacaste is the place for kiteboarding and kite surfing in Costa Rica. Starting in the north at Salinas Bay and heading down the Guanacaste Coast to the Nicoya Peninsula, there are plenty of kiteboarding spots to be enjoyed. When the waves kick up, go kitesurfing instead. You can take kiteboarding lessons with KiteboardingCostaRica.com.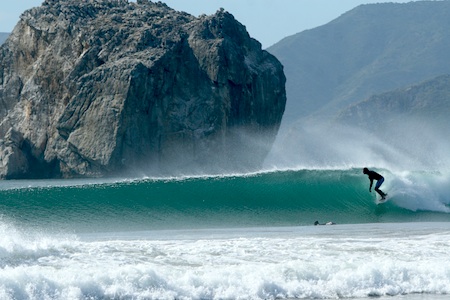 Surf's up. When the wind whips up the waves, one of the best surf spots in Costa Rica is Witch's Rock by Playa del Coco. The iconic landmark was made famous in the epic surfing movie Endless Summer 2.
If the winds aren't too strong, Playa del Coco catamaran sailing tours are the perfect way to watch the sunset, and hopefully see dolphins and maybe even Humpback Whales.
Get the Costa Rica wind forecast map at Windfinder.com. Be sure to follow all Costa Rica National Emergency Commission warnings and advisories for extreme winds and rough seas.
Besides fun wind-water sports, plan your travel to Costa Rica to enjoy the summer festival season from January to April.
Where to stay in Guanacaste Costa Rica? Go for Costa Rica condo rentals, Costa Rica beach rentals or Costa Rica vacation home rentals – often at lower prices than traditional hotels, and with more space, freedom and amenities. Contact All Costa Rica Rentals to make your reservation today.
Article by Shannon Farley
Related articles