If you're coming to Costa Rica on vacation, chances are you are going to visit at least one or two of the country's beautiful tropical beaches, possibly a volcano, and probably one or more of the proud nation's national parks. The destination you may or may not have in your travel itinerary is the capital city of San Jose, Costa Rica.
Most travelers – either on the recommendation of others, or simply due to short vacation time and so much to see – rarely spend more than their first and last nights in San Jose. If that. Tour groups may do a half-day San Jose city tour by bus, but that's usually the end of it.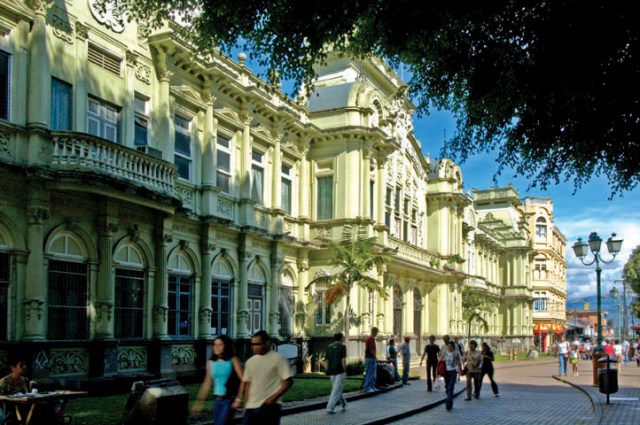 This is unfortunate. San Jose Costa Rica has changed in recent years – received a facelift in many ways – and is now an interesting city to visit, full of history, museums, beautiful architecture, restaurants, colorful gardens and sights. New walking streets make the city more pedestrian-friendly. The Costa Rica Tourist Police has an increased presence patrolling the downtown area to make it safer. The Costa Rican government and Costa Rica Tourism Board are working to develop cultural and gastronomic tourism in downtown San Jose.

In addition to cultural attractions like the National Theatre, National Museum and Gold Museum, visitors can enjoy historic buildings in the downtown and neighborhoods like Amón (also a good place for art galleries), and parks such as La Sabana, Morazan and España. The Costa Rica Tourism Board details three San Jose Walking Tours on their website, and TripAdvisor even has a page on the Top Things to Do in San Jose.
Some notable mentions of things to do in San Jose, Costa Rica include flexible bus tours by Costa Rica City Square Tour. Tourists in San Jose, Costa Rica can ride the new private hop-on, hop-off tour bus service that takes them to the city's main tourist attractions, such as the National Museum, National Theatre, National Children's Museum and the Costa Rican Art Museum. Bus service, with certified tour guides, runs from 8:45 a.m. to 4 p.m. along eight different routes; buses come around to each stop every 45 minutes on a loop system and you can hop on and hop off wherever you like for as long as you like. Cost is $25 for one day or $40 for two days.

ChepeCletas is a fun, young company offering cycling and walking tours of San Jose, including such variations as a Cantina Tour, Coffee History Tour, Gastronomic Tour of the Central Market. Tour guides speak English and Spanish. Regularly held Art City Tours give free access to cultural and artistic venues on that evening's program.
Museums and Attractions of San Jose, Costa Rica
Pre-Columbian Gold Museum: Open Mon – Sun
National Theatre: Open Mon – Sat
National Museum: Open Tue – Sun
Jade Museum: Open Mon – Sun
Insect Museum: Open Mon – Fri, 1:00-4:45 p.m.
Calderón Guardia Museum: Open Mon – Sat
National Culture Center: Open Mon – Fri
CENAC Museum of Contemporary Art & Design: Open Mon – Sat
National Library: Open Mon – Fri
Costa Rican Art Museum: Open Tue – Sun
Children's Museum: Open Tue – Sun
Numismatic Museum: Open Mon – Sun
There are an abundance of daily flights to Costa Rica from the U.S., Canada, Europe, and Central and South America into the Juan Santamaria International Airport by San Jose. This time of year is rainy season, and experienced travelers know that means good deals, lower rates in hotels, and fewer crowds.
On your next visit to Costa Rica, be sure to schedule some time in San Jose. Horizontes Nature Tours can help with tours and hotels in San Jose, Costa Rica, along with nature travel, family trips and beach vacations.
Article by Shannon Farley
Related articles