Puerto Viejo on the far southern Caribbean Coast is without a doubt, a must to visit during your travels to beautiful Costa Rica as there is no other place like it.  This is a melting pot of cultures, flavors, sights and sensations that will create unforgettable memories.  We add Le Caméléon Boutique Hotel to the equation and this becomes a true paradise in the tropics.
Le Caméléon is a 35 room eco-luxury hotel just south of the laid-back town of Puerto Viejo.  This beautiful little property, surrounded by lush, tropical vegetation is chic and styled for relaxation in a modern, minimalist design mirroring natural modern living.
It is also located on Cocles Beach, which is surely one of Costa Rica`s most beautiful beaches.  The hotels' guests can enjoy the Noa Beach Club with a series of crafted amenities right on the beach and just steps from the water to refresh and renew after some sun-worshipping or relaxing in the shadows of the swaying palm trees that embrace this spectacular beach.
Le Caméléon Experience
Le Cameleon turned 10 years old this year and will be celebrating this milestone with an awaited growth spurt to continue to service its guests with quality products and services and enhance their "LC Experience".
One of the favorite spaces that create the perfect Le Caméléon Experience is the Noa Beach Club and that has expanded to provide even more comfort and Caribbean fun for guests.  This means more beautiful beach, more enjoyment, and more experiences.
This amazing space on the beach offers a variety of experiences Le Caméléon Way to truly inhale the Caribbean Coast of Costa Rica whether it is relaxing on the really comfortable lounge chairs under the sun or in the shade.
Cocles Beach is a short bike ride down the coast from Puerto Viejo, the colorful main town in the area that has a great bar and restaurant scene.  It is also a melting pot of cultures that is reflected in the flavors of the Afro-Caribbean inspired cuisine with international twists.
This little tropical corner is also where bikes and surfboards are the two main forms of transports as Cocles is also a very popular place for wave riders.  This beautiful, white sand, crystal blue water beach is also a fantastic place for swimming so Noa Beach Club has the perfect location to enjoy paradise by the sea.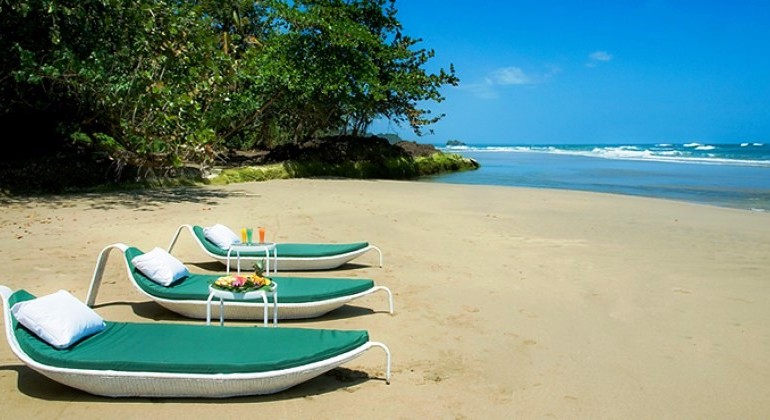 Noa Beach Club Paradise
The Noa Beach Club is home to  Le Caméléon's restaurant that specializes in delivering a gourmet experience to its guests.  The explosion of flavors that come from the Afro-Caribbean dishes with dashes of international flair makes for some great culinary delights.  What makes all this even better is that you can savor these delicacies right on the beach
Le Caméléon, in its continuous inspiration to create memories for its guests, has incorporated new spaces into the Noa Beach Club to rest and unwind.  More spaces to relax while inhaling the beauty of Cocles Beach in comfort.  Add some great music by the local, in-house DJ adds some rhythm to the Caribbean beach vibe. That cocktail in the hammock just started to taste that much better!
This great space is also the perfect opportunity for a destination wedding, a birthday celebration, a romantic dinner with your better half or to celebrate a milestone. The versatility of Noa Beach Club can be intimate or spacious and can be adapted to your special moment or festivity.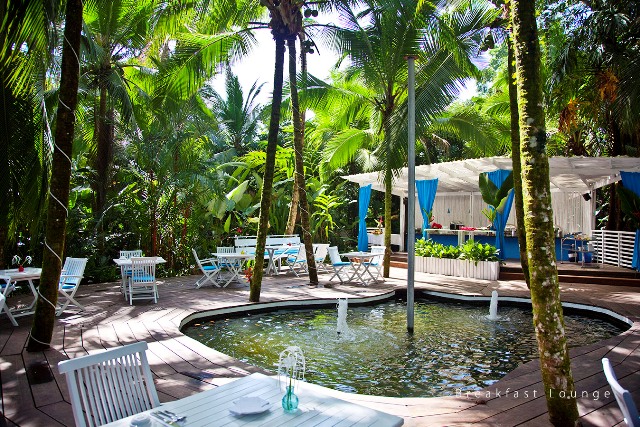 A boutique hotel that represents Costa Rica
Le Caméléon is a member of the Enchanting Hotels of Costa Rica, an exclusive collection of eco-luxury boutique hotels that can be found in the most beautiful corners of amazing Costa Rica.   With a focus on unique experiences and sustainable tourism, this prestigious symphony of small, unique properties represents Costa Rica perfectly.
While Le Caméléon is the process of expanding its services and the spaces this gorgeous hotel has to offer, it will continue to be intimate in the experiences it offers. With more amenities to enjoy at Noa Beach Club, this is just one way to truly immerse yourself into the Caribbean beach life where relaxation and connecting with nature are key to a fantastic vacation.
And let`s not forget that Le Caméléon also has a pool and Jacuzzi right by your suite that is just right to take a dip in after a day at the beach or a day of adventure if you decide to tear yourself away from the hotel and explore the surrounding rainforest from the canopy or immerse yourself into the local indigenous community and learn about their traditions.   This little corner in paradise is a mixture of experiences without a doubt!
Come and live the Le Caméléon experience that the new spaces it has to share with its guests.   This will be unforgettable!