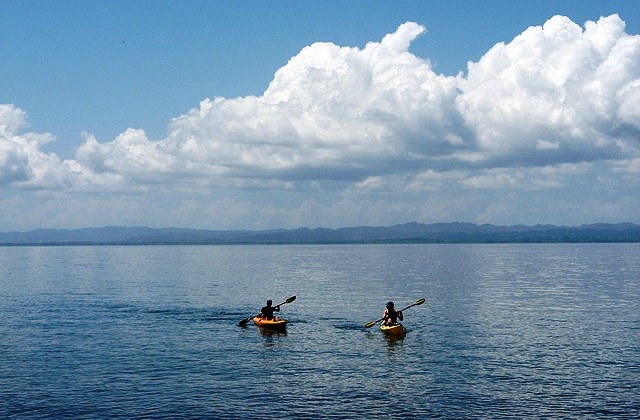 There is a magic in peacefully gliding along in a kayak, especially when it is on calm, smooth water along picturesque coastline.
Kayaking in Costa Rica in the "sweet gulf" of Golfo Dulce by the Osa Peninsula – one of only four tropical fjords in the world – it is like paddling across a giant mirror to the sky. Close to shore, the clear water's blues and grays turn to liquid jade, reflecting endless shades of green palm trees and jungle that crowd the water's edge. Look down and you'll probably see colorful fish swimming below your kayak. Dense green rainforest and mountains fill the horizon. There are very few buildings to be seen, and rarely another boat.
At Playa Nicuesa Rainforest Lodge, there are plenty of opportunities for kayaking in Golfo Dulce. Guests have unlimited use of kayaks on their own, and there are four fun ocean adventure tours that involve kayaking: coastal exploration, snorkeling trips, fishing from a kayak, and a river mangrove estuary safari. Most of Nicuesa Lodge's vacation packages also include kayaking tours. Kayaks are open sit-on-top style, and both single and double kayaks are available. All paddlers will wear lifejackets.
The coastal exploration kayaking tour can either be a relaxing hour of paddling for beginners around the bay by Nicuesa Lodge, or a challenging day exploring the coastline and nearby mangroves for adventurous paddlers with experience. You also can kayak over to the next beach south, Playa San Josecito, to Casa Orquideas Botanical Garden for a tour. Keep a look out for dolphins, rays and turtles. In August and September, you might see migrating Humpback Whales that come annually to Golfo Dulce to give birth; or also beautiful whale sharks.
Great snorkeling by a rocky point is a short kayak paddle away from Nicuesa Lodge's pebble and sand beach. You'll anchor the kayaks and then dive into inviting blue-green water to discover the world of colorful tropical fish, eels, corals, anemones and starfish. There are other snorkeling spots further away for longer kayaking trips.
If you want to try your hand at fishing in Golfo Dulce like a local, Nicuesa Lodge staff can set you up with the equipment to fish from your kayak. Maybe you'll bring back that night's dinner!

A favorite tour for everyone who visits Playa Nicuesa Rainforest Lodge is the river kayaking safari in the Esquinas River mangrove estuary. This is an exceptional trip for viewing wildlife, such as crocodiles, caimans, rainbow boas, crabs, Scarlet Macaws and multitudes of other birds, and white-faced, spider or squirrel monkeys. Paddling through the dense mangrove forest is an extraordinary experience!

Eco-hotel Playa Nicuesa Rainforest Lodge at Golfo Dulce
The Costa Rica eco-hotel Playa Nicuesa Rainforest Lodge sits on a pristine beach and tranquil little bay of Golfo Dulce, backed by its 165-acre private rainforest preserve that borders the wild Piedras Blancas National Park. It is one of the first sustainable tourism eco-hotels in Costa Rica and holds the highest level of the Certification for Sustainable Tourism (CST) program.
Playa Nicuesa Rainforest Lodge is located in southern Costa Rica by the Osa Peninsula. To get there, drive or fly (NatureAir or Sansa Airlines) to either Puerto Jimenez or Golfito. Nicuesa Lodge staff will pick you up and transfer you by boat to the lodge (about 30 minutes one-way). Included in lodge rates are all meals, boat transfers, all taxes, all meals and snacks, unlimited self-guided hikes in the private reserve, use of kayaks, snorkeling and fishing equipment.
Article by Shannon Farley
Related articles