This month's Earth Day on April 22 calls on the world to take positive action for a clean environment. Costa Rica and eco-friendly Playa Nicuesa Rainforest Lodge lead by example in environmentalism and sustainable tourism.
Earth Day calls on everyone in the world to take action for a clean, healthy, sustainable environment.
Held every April 22, the Earth Day global environmental movement inspires billions of people around the planet to participate in Earth Day activities, along with yearly campaigns, to protect and conserve the planet and to put a spotlight on world environmental issues.
Costa Rica may have a population of a little less than 5 million people, but the Central American country is consistently championing environmental practices and sustainability. So much so that the General Assembly of the United Nations just elected the President of Costa Rica, Luis Guillermo Solis, as special ambassador for the World Tourism Organization's 2017 program of the International Year of Sustainable Tourism.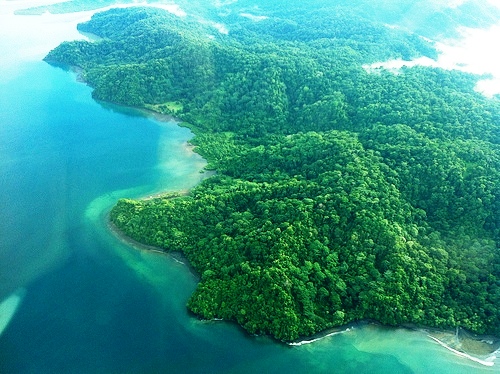 The little country is impacting the world on a large scale.
Costa Rica scored highest in environmental protection on the 2017 list of The World's 10 Best Ethical Destinations by Ethical Traveler. And in 2016, Costa Rica ran solely on 100% renewable energy of hydro-power, wind, solar and geothermal energy for 76 days straight (June 16 to September 2). The country improved upon its 2015 achievement of 75 straight days of sourcing 100% of its electricity from renewable energy.
While Costa Rica helps guide the world in environmental protection, Playa Nicuesa Rainforest Lodge in southern Costa Rica makes its own mark in sustainable tourism.
The unique Costa Rica eco-lodge recently received the prestigious Ecological Blue Flag Award for the seventh time for having one of Costa Rica's cleanest beaches. And Playa Nicuesa Rainforest Lodge is one of only a few dozen hotels in Costa Rica that holds the highest rating in the Certification for Sustainable Tourism Program (CST).
In honor of Earth Day this month, on April 23, Nicuesa Rainforest Lodge staff and any guests who want to help will conduct a regular beach cleanup of any waste that has been dragged by ocean currents to their shoreline on Nicuesa Beach. Their location on the unforgettable gulf of Golfo Dulce is an important site for migrating Pacific Humpback Whales and other marine life.
Other Earth Day 2017 activities at Nicuesa Lodge include participating in a reforestation campaign in the local town of Puerto Jimenez across the Golfo Dulce from the lodge on the Osa Peninsula. Lodge guests are invited to join in planting trees to help restore the environment from deforestation. The Earth Day event is hosted by the National and Environmental Community Service Association, and will feature talks and other activities in addition to tree planting.
During the days around April 22, Nicuesa Lodge will show the epic Disney nature movie Earth and have a discussion afterward.
Playa Nicuesa Rainforest Lodge is deeply committed to sustainable tourism and shares this experience with guests who visit the Costa Rica rainforest lodge. Located in a huge conservation area that includes the world-famous Corcovado National Park, the Piedras Blancas National Park and three other private reserves, Nicuesa Lodge maintains its own 165-acre private rainforest preserve.
Article by Shannon Farley
Related articles