To kick off the 2015 whale-watching season in Costa Rica, the Festival of Whales & Dolphins starts in September at Uvita Beach in southern Costa Rica. This year's 2015 Festival of Whales & Dolphins will be held even longer than last year – over three weekends: Sept. 4 to 6, Sept. 12 and 13, and Sept. 19 and 20.
The 7th annual festival marks the peak of the annual migration of southern Pacific Humpback Whales to the Ballena National Marine Park in Costa Rica. The Festival of Whales & Dolphins will hold whale-watching tours, a beach run and walk on Sept. 5, biking events, sand-sculpture contests, photography exhibits, concerts, environmental workshops, crafts and food sales throughout all three weekends.
Less than an hour north of the Ballena National Marine Park, Portasol Rainforest & Ocean View Living eco-community is offering a special promotion during Costa Rica whale watching season 2015. Stay two nights at the Costa Rica sustainable community, with full breakfast included, and receive a whale-watching tour for two persons with transportation from Portasol to the Ballena National Marine Park. The tour also includes snorkeling and a visit to the Ventanas sea caves.
Costa Rica provides an important sanctuary for endangered humpback whales to breed and give birth. Southern Pacific humpback whales swim north from Antarctica as far as Costa Rica to the warm tropical waters of Golfo Dulce and the southern Pacific coast from August to October. Then later from December to April, northern Pacific humpback whales swim thousands of miles from Alaska to the shallow coastal waters of the Ballena National Marine Park in southern Costa Rica.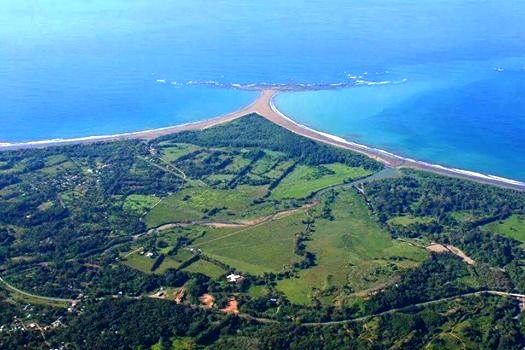 The Ballena ("whale") National Marine Park covers 272 acres (110 hectares) of land and 13,280 acres (5,375 hectares) of ocean. It was created in 1989 as the first marine park in Latin America, and is a vital refuge for marine life, including pilot whales, false orca whales, sea turtles, and Pacific Spotted, Common and Bottlenose dolphins. The Ballena National Marine Park is famous for its sandbar isthmus formed perfectly into the shape of a large whale's tail.
Biologists consider the protected area of the national park a perfect spot between the northern and southern hemispheres for marine life because it is located in what is known as the Costa Rica Thermal Convection Dome. This large "bubble" of shallow, oxygen-rich warm water layered over the top of colder water with less oxygen creates an ideal habitat for marine life.
About Portasol Rainforest & Ocean View Living
Looking to invest in real estate in Costa Rica or enjoy a Costa Rica vacation rental for your holiday? Visit the unique eco-development of Portasol Rainforest & Ocean View Living that appears in the new Hollywood movie "After Words", with Marcia Gay Harden and Oscar Jaenada, that was filmed in Costa Rica.
Set on 1,335 acres of pure wildlife-rich rainforest on Costa Rica's Central Pacific Coast, Portasol's location is ideal – between Manuel Antonio National Park and the Ballena National Marine Park. Portasol is close to uncrowded tropical beaches and top whitewater rafting rivers. Offering Costa Rica property for sale and unique Costa Rica vacation rentals, Portasol is a perfect place to stay while you explore the southern Pacific region of Costa Rica.
Article by Shannon Farley
Related articles