Guests lucky enough be staying at Playa Nicuesa Rainforest Lodge at the end of July were treated to a fun event celebrating the art and culture of Costa Rica.
In honor of the national holiday, Annexation of Guanacaste Day on July 25, Nicuesa Lodge invited local artisans and a folkloric dance group to entertain hotel guests. The Costa Rica eco-lodge holds cultural and art festivals at least twice a year to celebrate different events.
On this occasion, craft artisans and the Folkloric Dance Group Yuré from the town of Puerto Jimenez came across the Golfo Dulce by boat to the lodge. Joining them was Ana Iris, a woman from the regional indigenous Boruca community, who brought traditional masks to show and sell. Made from lightweight balsa wood, the colorful, hand-carved masks beautifully depict Boruca legends and rainforest wildlife of the Osa Peninsula.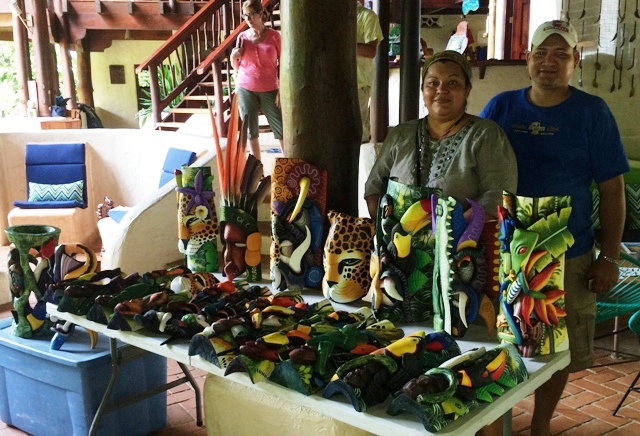 Young dancers performed various Costa Rican folkloric dances, relating stories of coffee growers, fishermen, love, etc. "The dancers then invited our guests to dance the 'Pavo', or turkey dance. Everyone was very enthusiastic," said Natalia Solis, Sustainability Coordinator at Playa Nicuesa Rainforest Lodge.

Lunch served by Nicuesa Lodge's gourmet cooks was a typical Costa Rican meal of arroz con pollo (rice with chicken), salad and black beans. To drink, guests tried a traditional Caribbean beverage called Agua de Sapo, or "water of the frog." Having nothing to do with its name, the beverage basically is a sweet ginger lemonade, made with water, lemon, ginger and raw cane sugar, called tapa dulce. For dessert, guests enjoyed Costa Rica's famous "coconut caramel", made fresh at the lodge with coconut grown on the property.
Meals are served in Nicuesa Lodge's magnificent two-story tree house-style main building. The open-air dining area gives unobstructed views of the tree canopy (great for wildlife spotting), the forest, beach and ocean.

Visit Playa Nicuesa Rainforest Lodge in Costa Rica
Located in the pristine rainforest on a remote beach of the warm water gulf of Golfo Dulce, the award-winning sustainable tourism hotel in Costa Rica offers an extraordinary experience of the Costa Rica rainforest. Ideal for adventure sports, nature exploration and relaxing completely "unplugged," Playa Nicuesa Rainforest Lodge is an oasis of comfortable, rustic luxury in the jungle.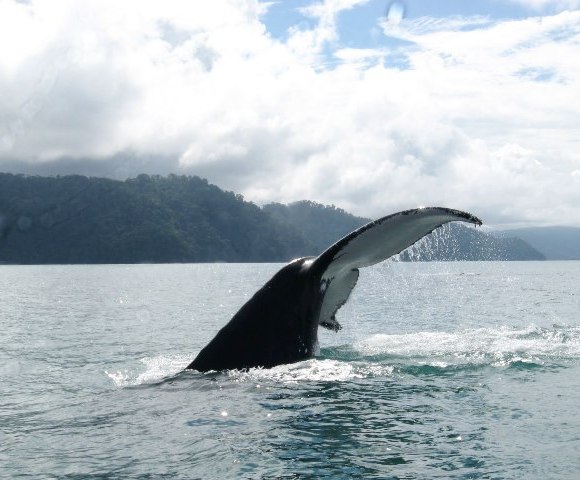 Whale watching in Golfo Dulce, Costa Rica
Don't miss the 2015 season for whale watching in Golfo Dulce, Costa Rica. Starting in August, the tranquil blue waters of this Pacific gulf, between the Piedras Blancas National Park and the Osa Peninsula in southern Costa Rica, welcome migrating southern Pacific humpback whales who come to breed and give birth. Enjoy daily whale watching tours at Playa Nicuesa Rainforest Lodge.
Article by Shannon Farley
Related articles