One of the most brilliantly beautiful tropical birds is definitely the Scarlet Macaw (Ara macao). Its loud, raucous squawks carry for miles, so usually you hear them before you see them. When you do sight a Scarlet Macaw in the wild, they are breathtaking – fire engine red bodies with sunshine yellow and royal blue wing feathers tinged with a bit of green, and a distinct stark white patch around both eyes.
An endangered species, Scarlet Macaws live in tropical forests from Mexico to South America. In Costa Rica, they live in dry, moist, and wet tropical lowland forests along the Pacific Coast where large mature trees provide nesting and food of nuts, fruits and flowers.
One of the best places to see wild Scarlet Macaws is at Carara National Park. You can also see them along the Central Pacific Coast from Herradura to Manuel Antonio, and in the Corcovado National Park on the Osa Peninsula.
Carara National Park is located in a transition zone between tropical dry forest of Costa Rica's Northern Pacific and tropical rainforest of the Southern Pacific. This makes the Park home to a vast variety of wildlife and plants. Carara is one of 28 national parks in Costa Rica. Spanning 12,950 acres, it was created in 1978 first as a biological reserve and then made a national park in 1998.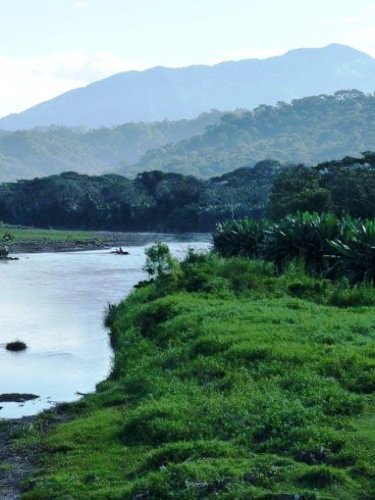 Carara is exceedingly popular due to its easy accessibility and proximity to the capital city and the highly-trafficked beach town of Jaco, the Los Sueños Resort at Herradura Bay, and the Pacific cruise ship port of Caldera. But if you get there early, right when the park opens, or go late in the day near closing time, you can beat the crowds and have the nature and wildlife to yourself. Early morning, or around sunset is often the best time to see animals living in the park, especially Scarlet Macaws.
The Carara National Park protects the Tarcoles River valley on the Pacific Coast. Its forests are dense and high, and the park has a mixture of primary and secondary forests, lagoons, rivers and waterfalls. The huge trees here are often covered with vines and epiphytes. Pre-Columbian archaeological sites are scattered throughout the area.
The park's name is the native Huetar word for crocodile. Visit the park and you'll understand why since the Tarcoles River, which forms the park's northern boundary, is famous around the world for its giant and plentiful crocodiles. The Tarcoles River Bridge on the Coastal Highway is a favorite place for tourists to stop and view the monster-sized crocodiles below. Boat tours on the river also are very popular.
More than anything, though, Carara National Park is known for being a bird watching paradise. About 48% of Costa Rica's avian species, including one of the country's largest remaining wild populations of Scarlet Macaws, live in the park. More than 360 species of birds have been recorded in Carara, including toucans, parrots, aracaris, trogons, kingfishers and herons.
Other wildlife you are likely to see include white-faced Capuchin monkeys, agoutis, coatis, sloths, peccaries, anteaters, armadillos, boa constrictors and poison-arrow frogs.
The park has two trails to explore, each of which is approximately 2 miles (3 km) in length. There is a new shorter wheelchair accessible trail as well. It is best to go with a naturalist guide who will point out plant and animal species and explain the park's ecology.
Carara National Park is located 9.3 miles (15 km) north of Jacó and about an hour from San Jose. The Quebrada Bonita Ranger Station sits along Hwy 34 just minutes south of the Tarcoles River. The rangers will be happy to give advice and current information on wildlife. The park opens at 7 a.m. and closes at 4 p.m. The entrance fee is $10. Don't forget to bring insect repellent.
You can visit Carara National Park with Costa Rica travel agency Team CRT on their 7-day/6-night Costa Rica National Parks vacation package. The agency knows the best of the country, what to do and see, and they personalize it for you, designing your Costa Rica vacation to fit exactly what you want. From nature tours to beach destinations, adventure tours, family vacations, relaxation vacations, honeymoons and golf vacations, Team CRT delivers you unforgettable Costa Rica vacation packages. They also offer vacation packages to neighboring Panama and Nicaragua.
Team CRT is committed to sustainable tourism vacations that actively involve the local community in Costa Rica.
By Shannon Farley
Related articles