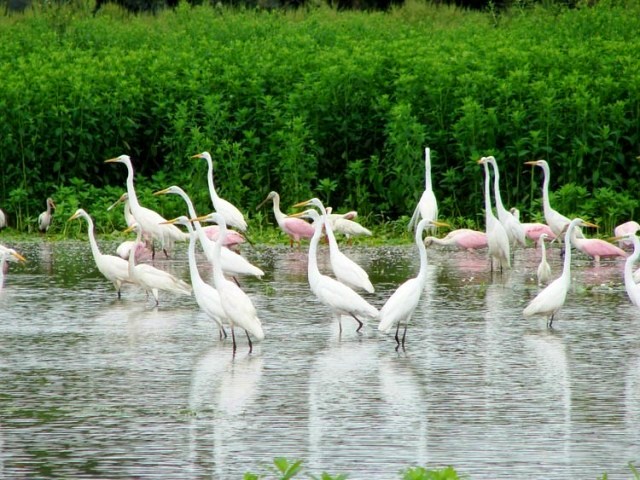 Rainy season in Costa Rica is the best time to visit the Caño Negro Wildlife Refuge. Known as the "everglades of Costa Rica", its 25,100 acres have been designated a "world protected area" by conservation groups like the Ramsar Convention, for being home to some of the world's rarest plant, animal and bird species.
Located near Costa Rica's northern border with Nicaragua, by the small town of Los Chiles, Caño Negro Wildlife Refuge is one of the best places for bird-watching in Costa Rica. The best time to visit Caño Negro is now in rainy season, when the calm Rio Frio (Cold River) spills out over the grassy marshland creating a massive lake and intricate network of waterways.
The only way to explore these fascinating wetlands is by boat. You can go wildlife and bird-watching, or fishing, on guided tours in motorized covered boats. Early mornings or late afternoons are the best times for viewing wildlife.
More than 350 species of birds live in the Caño Negro tropical everglade, and record numbers of migratory waterfowl visit during migration season. You can see beautiful and interesting birds such as anhingas, roseate spoonbills, Jabiru storks, ducks, kingfishers, herons, egrets, Northern Jacanas, ibises and cormorants. The Frio River is full of fish like snook, silver-gold tarpon, the rare garfish, and also caimans. Along the shoreline and in the trees you may see other animals like emerald basilisks, White-faced Capuchin monkeys, howler monkeys, two and three toed sloths, iguanas, river turtles, anteaters and bats.
When visiting the Arenal Volcano and Northern Plains of Costa Rica, unique Caño Negro is one of the most amazing and worthwhile Costa Rica day trips. It is a good day trip also to do from Maquenque Eco-Lodge – or on your way from Arenal to Maquenque.
Top Costa Rica bird-watching hotel, Maquenque Eco-Lodge, records more than 410 bird species in its area by the San Carlos River and Maquenque National Wildlife Refuge. The Costa Rica eco-lodge offers guided bird-watching tours, and river canoeing, rafting and boating trips.
Article by Shannon Farley
Related articles