When Massi Devoto used to guide small groups around Costa Rica, he noticed that out of all of the experiences the tourists shared, the ones they enjoyed and talked about the most were the simplest. Buying tropical fruits at a roadside stand. Watching a monkey in a tree. Meeting friendly folk in a rural town. Walking through the rainforest.
The realization led him to start his own tour company in 1999 with his associate, Ronald Bottger, with the goal to combine adventure and the natural attractions of Costa Rica with the cultural experience of meeting the friendly, happy people for which the country is well-known. It was a dream come true.
Fifteen years later, Explornatura is one of the top adventure and nature tour companies in Costa Rica.
"We always try to combine adventure with nature and culture," said Devoto. "We don't do any adventure that involves motors – no ATVs, etc. We want people to enjoy nature and have contact with the communities where we do our adventures – whether indigenous communities or local Costa Rican populations."
Based in the rural town of Turrialba, two hours east of San Jose that is named for the Turrialba Volcano, Explornatura focuses mainly on rafting, canyoning, hiking and biking. They also offer horseback riding, a coffee tour and a cultural visit to the Guayabo National Monument archeological site. Their motto is "real adventure accessible to everybody."
Turrialba is the "whitewater rafting capital" of Costa Rica and some of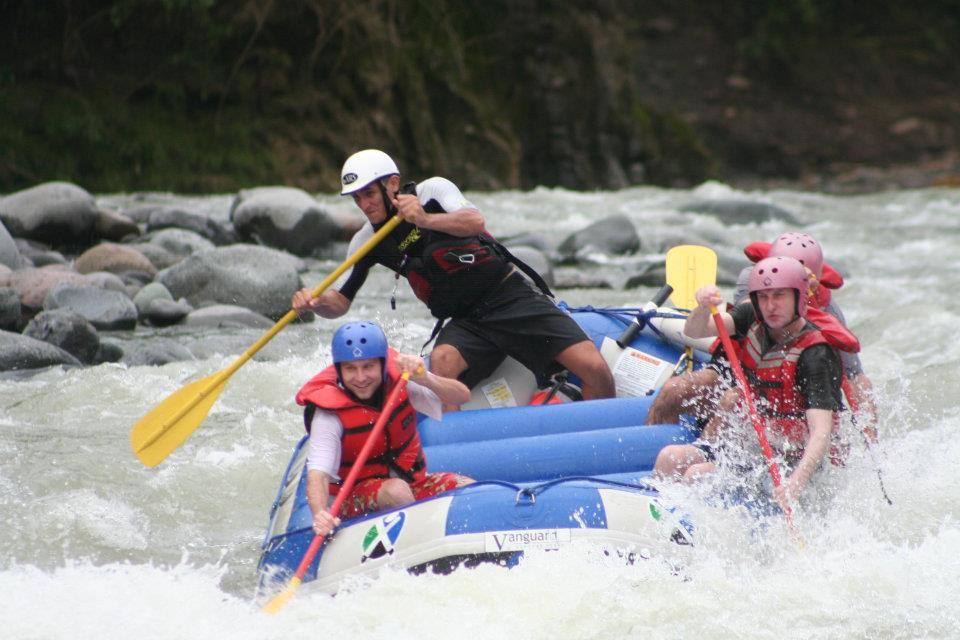 the country's best rivers are right in Explornatura's backyard. The company rafts the traditional 16-mile lower section of the famous Pacuare River – one of the world's best – but also the lesser-known top section. Additionally, they guide hiking tours to the indigenous communities by the Pacuare River, and can combine rafting and hiking for those interested. Easy family rafting trips are conducted on the Pejibaye River.
Explornatura's canyoning tour on a private reserve in the Puente Vigas Canyon by Turrialba takes you on an unforgettable adventure. You start by rappelling down the first waterfall, then cross two zip-lines, rappel down a second waterfall, cross two more zip-lines, traverse a 132-foot hanging bridge, rappel a third waterfall, climb up a rock wall, and finish with a rappel down a fourth waterfall.
Explornatura is located in Turrialba, Costa Rica. You can make reservations online, by emailing to puravida@explornatura.com or by calling 1-866-571-2443  (from the U.S. & Canada) or +(506) 2556-0111.
Article by Shannon Farley
Related articles