Whenever I travel back to the States on vacation, people always ask me, "What is Costa Rican food like?" Usually I quip: "Rice and beans" for a quick answer.
Rice and beans certainly is a staple of Costa Rican cuisine – what tourist can forget the customary breakfast of gallo pinto (rice and beans) served with eggs and fried plantains? But there are so many other flavorful, delicious and unique dishes that make up traditional Costa Rican meals.
You don't often hear much about Costa Rican food, while you almost always hear about Costa Rica's amazing beauty. The fabulous uncrowded beaches. The exciting volcanoes. The thrilling adventures like zip lining and whitewater rafting. The wildlife … rainforest … and the warm, tropical climate.
That's not because there's nothing to write home about. It's just that Costa Rican cuisine isn't touted as much as its sloths and surfing.
That's all changing with a new national plan to promote the Central American country's cuisine and turn Costa Rica into a culinary travel destination. Since 2015, the Costa Rican National Plan for Sustainable and Healthy Gastronomy is working to popularize the country's national dishes and foods as a cultural expression of its peoples.
According to the World Tourism Organization, gastronomy is becoming one of the most important incentives for travel. With that in mind, the Costa Rica Tourism Board (ICT), along with the Costa Rican Chamber of Restaurants (CACORE) and the National Institute of Biodiversity (INBio), created the national plan to promote "Costa Rican cuisine as sustainable, considering social, environmental and economic aspects in all phases of production, marketing and service." The program gives training on how to prepare traditional dishes, and encourages using local produce and products for the recipes.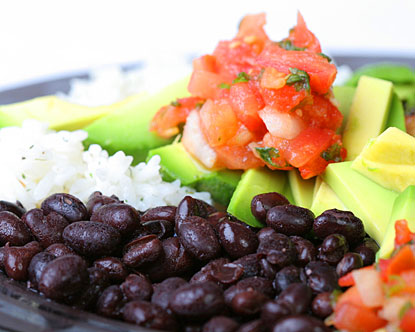 Costa Rican coffee and pineapples are already world famous. But beyond that, and rice and beans, most people don't know what else there is.
Costa Rican cooking is characterized by simplicity and freshness. The country is rich in abundance of tropical fruits. There is plenty of fresh fish and free-range grass-fed beef. There are oodles of vegetables; and delicious meals of soups, grilled meats, rice dishes, ceviche, and picadillos.

Costa Rican Cuisine Takes the World Stage
To get the word out in the world about Costa Rican cuisine, the country has its own Ambassador for the National Plan for Sustainable and Healthy Gastronomy. Costa Rican Chef Randy Siles, of Hotel Tropico Latino in Santa Teresa, Costa Rica, has hit the road with a traveling "cooking show" to introduce people in strategic cities to Costa Rican foods.
Chosen by a commission from the organizations responsible for the plan, Siles last year traveled to Barcelona and Washington, D.C., and Miami in April. Later this year he will visit Boston, Chicago, Los Angeles and Toronto. In each city, he cooks selected Costa Rican dishes for groups of journalists, who then write about Costa Rican gastronomy. He uses Costa Rican foods and presents them in unique ways in original dishes that are innovative twists on traditional recipes.
Sustainable and Healthy Gastronomy at Hotel Tropico Latino
Innovative, healthy, Costa Rican cuisine and sustainable practices mark Chef Siles' home base of Hotel Tropico Latino as a flagship for the National Plan for Sustainable and Healthy Gastronomy. A master of the fusion style called "Author's Cuisine," Siles focuses on sustainability in his menu for the hotel's Shambala Restaurant by using native produce and products and buying locally as much as possible, especially organic.
Equally important, Siles is dedicated to the Santa Teresa beachfront restaurant's team of 13 – 8 waiters and 5 in the kitchen. Most are local residents, ensuring sustainable employment in the small community. Siles said his team is like a family, bonded together by the restaurant's core values of excellent service, being proactive, creativity, honesty, flexibility, dedication, teamwork, and respect.
They work together and play together – participating in local surfing competitions with a hotel-sponsored team. And they make a difference in the community with benefit dinners, volunteer projects to paint local churches, etc. The result is a steady local clientele at the Santa Teresa Beach restaurant and repeat hotel guests who ask for waiters by name.
"People want to travel to a place where they can find good food, plus a place with a sustainable philosophy, like Hotel Tropico Latino. We are a place where everything happens," Siles explained.
"We are so very proud to participate in the National Plan … and have Randy leading our restaurant team," said Hotel Tropico Latino manager Roberto de la Ossa. "This program is a model to follow in Costa Rica and we encourage other hotels and restaurants to participate across the country."
The Santa Teresa, Costa Rica Restaurant Shambala at Hotel Tropico Latino is open to the public for breakfast, lunch and dinner. Table reservations can be made on-line on Hotel Tropico Latino's website.
Article by Shannon Farley
Related articles