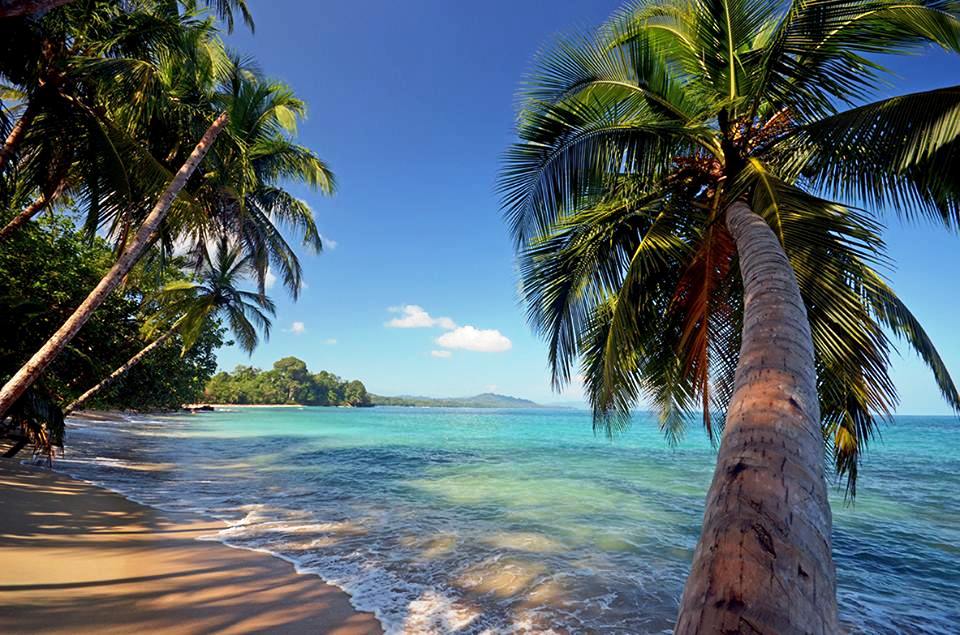 The Costa Rica Caribbean Coast has everything you're looking for on your holiday, whether rest and relaxation, romance, adventure, family time, fun with friends, or new beginnings like your wedding or honeymoon.
The southern Caribbean of Costa Rica has a decidedly relaxed vibe. Afro-Caribbean, Latino and Bribri indigenous cultures uniquely blend with customs of newer residents who have come to this paradise from all over the world. South of Limon, Costa Rica, the eclectic beach town of Puerto Viejo charmingly reflects this "melting pot" of lifestyles.
Warm sand in a rainbow of colors from gold to black, gray and white welcomes you to stretch out in the sun and soak in life's radiance. Raucous parrots and vibrant toucans fly overhead and call out from the deep green forest. The Caribbean Sea is spellbinding with its spectrum of blue and turquoise; the rhythm of waves lulling you into a satisfying relaxation. Best yet, the sea is wonderfully warm, perfect for splashing, playing, surfing, snorkeling and a dozen other adventures.
You can go for long beach walks along the shore and coastal trails, or rent a bike and explore the little villages and neighborhoods. Perhaps, try out a new adventure – surfing, zip-lining, whitewater rafting, snorkeling, scuba diving, kayaking, or horseback riding. Or broaden your horizons by visiting a sloth sanctuary, jaguar rescue center, or indigenous reserve for a chocolate tour. This time of year, rain showers are a nice excuse for an afternoon nap or to indulge in a captivating novel from the comfort of a hammock.
The fabulous Le Caméléon Hotel on the gorgeous beach of Playa Cocles provides you with exclusive upscale lodging in Puerto Viejo Costa Rica. The Costa Rica boutique hotel sits in front of the sea surrounded by wild jungle, just 3 km from Puerto Viejo town center. Twenty-three ultra-chic rooms border the pool and lush tropical gardens. Decked out in impeccable white with striking touches of brightly colored accessories that change hue daily like a chameleon, rooms have all the comforts expected, such as A/C, satellite TV, Wi-Fi, rain shower, mini-bar, phone, iPod / iPhone docking station, and Yves Rocher amenities.
The Enchanting Hotel of Costa Rica offers private yoga classes, spa services, reading/lounging areas, the elegant Le Numu Restaurant & Bar, and La Sula Sea Lounge beach club with its day-beds, hammocks, lounge chairs, bar and restaurant service right on Cocles Beach.
Le Caméléon Hotel is currently offering four steal-of-a-deal special offers:
Web Last Minute Offers with up to 50% discounts
Three night stay for the price of two
Article by Shannon Farley
Related articles