The trash problem of the world's oceans has reached epic proportions. However, in the small Central American nation of Costa Rica, 108 beach communities have taken a stand against litter and pollution and are working to make a difference in the world predicament.
The record number of Costa Rica beaches received Ecological Blue Flag Awards for 2014 for having good ecological practices, clean beaches, community cooperation and coastal protection. The annual awards were given out in a ceremony held in March 2015.
One of these Costa Rica beaches that are tackling the world problem of ocean pollution is Playa Nicuesa. The small beach on the Golfo Dulce in southern Costa Rica is home to Playa Nicuesa Rainforest Lodge, a sustainable Costa Rica eco-lodge known for its pristine tropical beach, beautiful rainforest, and jade green Pacific Ocean so clear you can see to the bottom. The region is a giant conservation area that includes the world-famous Corcovado National Park on the Osa Peninsula, the Piedras Blancas National Park and three other private reserves. The unique Golfo Dulce – "Sweet Gulf" – is a critical habitat for migrating Pacific Humpback Whales, and dolphins and sea turtles.

Keeping these beaches unspoiled is important, and is a full-time job that Nicuesa Lodge staff undertakes with conviction. This is the fifth time Nicuesa Lodge has been honored with receiving the Blue Flag Award for being one of Costa Rica's cleanest beaches.
"We are proud to say that Playa Nicuesa is a very clean beach, where our guests can enjoy it without any danger. We constantly hold beach cleanups to keep our beach clean," said Natalia Solis, Sustainability Coordinator at Playa Nicuesa Rainforest Lodge. "These efforts to help nature are of the utmost importance to Playa Nicuesa since it is part of the philosophy and principles that we have as a sustainable hotel."

Playa Nicuesa Rainforest Lodge is one of only three dozen hotels in Costa Rica that have received the highest rating in the Certification for Sustainable Tourism Program (CST) by the Costa Rica Tourism Board (ICT).
In addition to its participation in the 19-year-old Costa Rica Blue Flag Ecological Program (Bandera Azul Ecológica),  Nicuesa Lodge is involved in many sustainable environmental projects: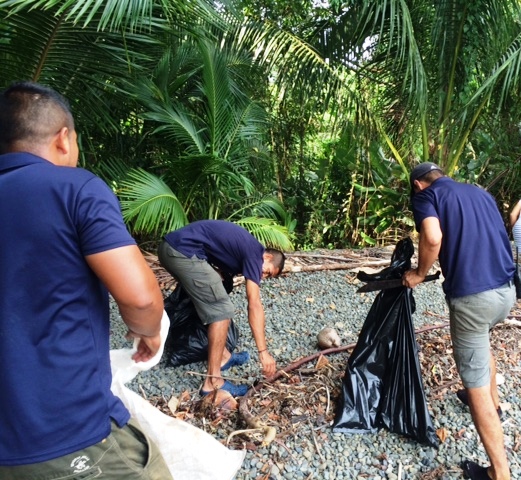 Beach cleanups every four to six weeks by staff and guests.
Maintain five trash receptacles near the beach at Playa Nicuesa.
Work with the Costa Rica Health Ministry campaign against dengue fever in the region.
Hold workshops on environmental issues.
Test the hotel's potable water at least every three months to ensure its safe drinkability.
Test the ocean water at Playa Nicuesa twice a year.
Reforestation with native Costa Rican tree species to create a biological corridor.
"We know that we only have one planet and it is our home; this is why we try to improve our sustainable practices," said Solis. "We hope that many more people join this program and that there are more beaches like Playa Nicuesa to set an example and motivate others to work together to protect our country's precious natural resources."

Playa Nicuesa Rainforest Lodge
A true Costa Rica rainforest lodge, Playa Nicuesa Rainforest Lodge is located on a 165-acre private rainforest preserve. Being a unique adventure travel destination, the only way to get there is by boat across the pristine waters of the Golfo Dulce from either Golfito or Puerto Jimenez.
Contact Playa Nicuesa Rainforest Lodge to book your Costa Rica family vacation, honeymoon, nature and adventure vacation, or yoga retreat.
Article by Shannon Farley
Related articles