Sustainability and being good to the planet mean everything to Playa Nicuesa Rainforest Lodge, even down to their incredible Costa Rican natural bath products by Raw Botanicals.
If you have stayed at Playa Nicuesa Rainforest Lodge in Costa Rica, you'll remember the delicious smells of their banana hair conditioner, ylang-ylang shampoo, and papaya tangerine body wash. If a vacation to the Costa Rica eco-lodge is in your future, you can look forward to their Costa Rican natural bath products!
The story behind Nicuesa Lodge and its natural products is one of sustainability and being kind to the planet.
Being located on a 165-acre private nature reserve on the gulf of Golfo Dulce in the wild and undeveloped Osa Peninsula region of southern Costa Rica, means the environmentally sensitive lodge embraces conservation and harmony with nature. Playa Nicuesa Rainforest Lodge holds the highest Certification for Sustainable Tourism (CST) in Costa Rica, the prestigious TripAdvisor GreenLeaders Platinum Status, and has received the Ecological Blue Flag Award six years in a row for one of the cleanest beaches in Costa Rica.
So it is only fitting that the rainforest hotel would use bath amenities by Costa Rican company Raw Botanicals. Their Costa Rican natural bath products are high-end, biodegradable and organic – perfect for Nicuesa's sustainable philosophy. They come in re-fillable containers to avoid the waste of single-use plastic bottles like you get at a lot of hotels. Guests love how the bath products smell, how well they work, and that they are made from natural ingredients.
"Raw Botanicals products are made from locally sourced ingredients by a local business – factors that contribute to a reduced carbon footprint as well as our commitment to maintaining support for the local economy," said Donna Butler, owner of Playa Nicuesa Rainforest Lodge. "Guests are happily using products that are made with natural plant-based ingredients such as papaya, ylang-ylang, and other plants that they are seeing, smelling and eating right here at Nicuesa Lodge. They are experiencing Costa Rica's nature from yet another perspective."
Since the products are biodegradable and organic, when guests and employees use them, no artificial ingredients drain into the soil or water table.
"Using Raw Botanicals products fits perfectly with our commitment to take care of nature since they are biodegradable. Not only do we have products of excellent quality, we also make sure the environment won't suffer with the residuals they produce," commented Nicuesa Sustainability Coordinator, Brayan Chaves. "At Nicuesa Lodge, we make sure we are being environmentally responsible in every aspect of what we do. We want to ensure that our guests have the best vacation and also that their visit causes a minimum impact to the nature they enjoy so much here."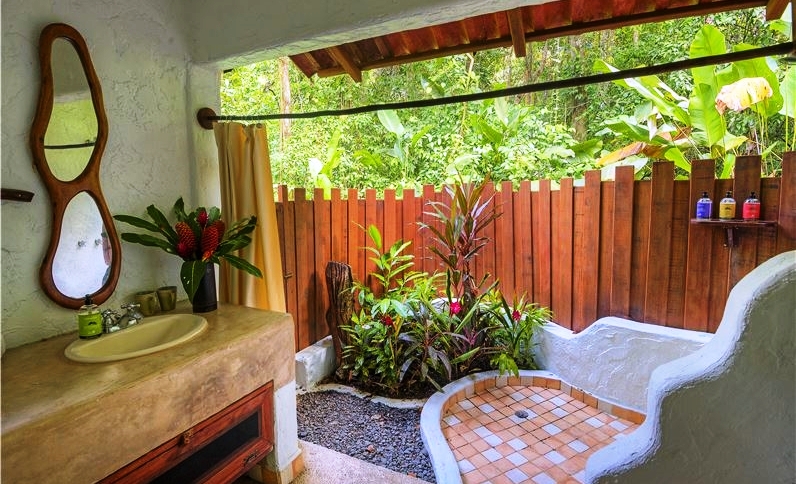 Raw Botanicals was started in Manuel Antonio, Costa Rica, in 1999 by U.S. expats Molly and Adam McBride, who relocated to the area that year. Their idea was to create spa products to match a raw food diet and organic lifestyle. The company has grown to now produce earth-friendly, 100% organic, biodegradable and sustainable bath and beauty products that are used in hotels and resorts and sold in gift shops throughout Costa Rica and around the world.
Playa Nicuesa Rainforest Lodge uses these Raw Botanicals products: Banana Hair Conditioner, Ylang-Ylang Shampoo, Papaya Tangerine Body Wash, Citrus Face & Hand Soap, Mango Dream Cream body lotion, and Lemongrass Insect Deterrent.
The good news is that you can order Raw Botanicals bath and beauty products online and have them delivered to your home in whichever country you live. Then you can instantly remember every day your incredible Costa Rica rainforest vacation at Nicuesa Lodge!
Article by Shannon Farley