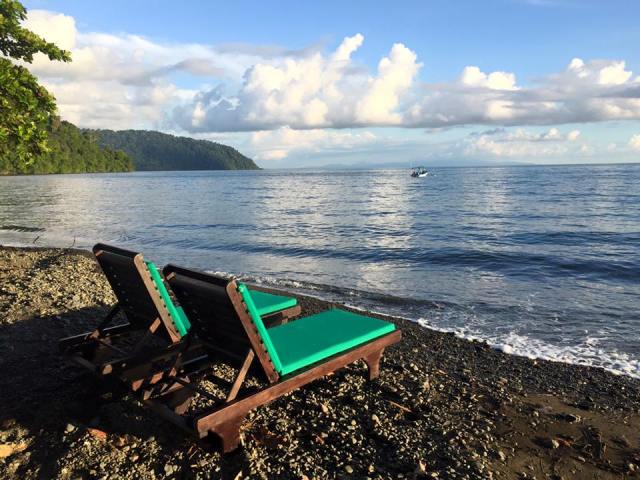 If you are lucky, you will be spending your Christmas vacation in Costa Rica on an amazing tropical beach alongside the incredible Costa Rica rainforest at Playa Nicuesa Rainforest Lodge.
To help get you in the holiday spirit, here are some of the fun activities the Nicuesa Lodge staff has planned for you.
There will be special dinners on Dec. 24 for Christmas Eve and Dec. 31 for New Year's Eve. The gala feasts will include roast pork, grilled whole fresh fish caught by Nicuesa staff, and other traditional Costa Rican foods including fresh vegetables, rice, beans, plantains, salads and fresh fruit. Kids' menu items include fresh fish fingers, fresh cassava chips, veggies and ice cream.
Nicuesa Lodge meals are served family-style all together in the magnificent two-story tree house-style main lodge building. The open-air dining area allows unobstructed views of the tree canopy (great for wildlife spotting), the forest, beach and ocean, and at night, a huge star-filled sky. Relax after dinner in hammocks and lounge chairs and enjoy conversing with your fellow guests from all over the world.
Tamales in Costa Rica are an essential Christmas food, made from corn meal and filled with rice, potatoes, vegetables, garlic and onions, and usually shredded pork; then they are wrapped in banana or plantain leaves and boiled. Guests can join in the cultural tradition to learn how to make their own tamales.
Kids of all ages will have fun painting coconuts and decorating Christmas boxes to be hopefully filled by Santa on Christmas Eve. Natural adventures are an essential part of the Playa Nicuesa Rainforest Lodge experience, so there will be a kayaking competition for children and adults on Dec. 24 in the calm bay in front of Nicuesa's beach.
Playa Nicuesa Sustainability Coordinator, Natalia Solis, will lead an end-of-year tribute to the Earth on Dec. 30 with a tree planting ceremony, where guests can give the sustainable gift of a new tree to the world. The trees, all native to Costa Rica, were donated by the Costa Rican Tourism Board (ICT).
On Dec. 31, Nicuesa staff will engage in the last beach cleanup of the year, and invite guests to join in their eco-conscious effort. Playa Nicuesa Rainforest Lodge in Costa Rica is known for its pristine tropical beach and beautiful rainforest. Efforts to keep the beach unspoiled were recognized earlier this year when Playa Nicuesa received the important Ecological Blue Flag Award for having one of Costa Rica's cleanest beaches.
Visit Playa Nicuesa Rainforest Lodge in Costa Rica
Can't come at Christmas? Visit Playa Nicuesa Rainforest Lodge in 2016! The Costa Rica eco-hotel is your dream destination for a rainforest and beach holiday in Costa Rica.
Located in the rainforest on a remote beach of the warm water gulf of Golfo Dulce in southern Costa Rica, Nicuesa Lodge is one of the first sustainable tourism eco-hotels in Costa Rica and holds the highest level of the Certification for Sustainable Tourism (CST) program. It is an oasis of comfortable, rustic luxury in the jungle on a 165-acre private rainforest preserve that borders the wild Piedras Blancas National Park.
The unique adventure travel destination includes in your stay all meals, boat transfers from Puerto Jimenez or Golfito, unlimited self-guided hikes in the private reserve, use of kayaks, snorkeling and fishing equipment, and a beachfront yoga deck.
Contact Playa Nicuesa Rainforest Lodge today to book your 2016 Costa Rica family vacation, honeymoon, nature and adventure vacation, or yoga retreat.
Article by Shannon Farley
Related articles