One of the most frequently asked questions when planning a vacation to Playa Nicuesa Rainforest Lodge in Costa Rica is: What are the meals like?
Given Nicuesa Lodge's remote location in southern Costa Rica by the Osa Peninsula, this is an important question. Everyone wants to know what they are going to eat!
At Nicuesa Lodge, all meals and snacks are included in guest stays. I know what you're thinking … isolated eco-lodge means spartan, simple meals, right? Wrong. Nicuesa's chef and kitchen crew prepare exceptional meals of world-class cuisine fresh every day. Emphasis is on healthy Latino-style cuisine, with lots of fresh fish, tropical fruits and vegetables. See sample menus.
The Pacific gulf of Golfo Dulce is full of fresh fish, right in front of the lodge! Take one of their fishing tours, or learn to fish with a hand-line right from the boat dock. What you catch may be dinner or an appetizer that night!
On Nicuesa Lodge's 165-acre private reserve, they grow much of their own food, including tropical fruits like mangoes, star fruit, oranges, lemons, papayas, water apples, bananas, and coconuts. The edible garden supplies pineapples, sugar cane, vegetables and herbs. Breads, tortillas, desserts, juices and salsas are made fresh in the kitchen. The water at Playa Nicuesa is drinkable right from the tap. It comes from a natural spring, and is processed through a UV and sediment filtration system.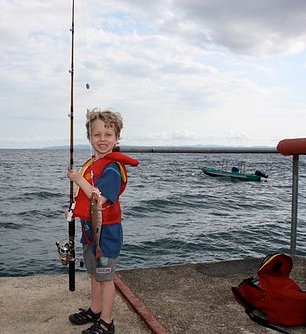 Traveling with kids? Menus can be customized to "children friendly" foods. Vegetarians and persons with specific dietary needs also have it easy with the flexible and accommodating kitchen staff ready to make every guest's stay fantastic. Lodge management only asks that they be advised about any special dietary requirements in advance before the guest's arrival.
Dining at Nicuesa Lodge is family-style in their uniquely designed tree-house style main lodge building. Guests always comment that they enjoy the wonderful conversations and meeting other guests from around the world. Happy hour with drink specials and appetizers is nightly between 6:00 and 7:00 p.m. in the thatched roof candlelit bar.
Plan your vacation today to Playa Nicuesa Rainforest Lodge in Costa Rica. The exotic adventure travel destination offers family vacations, honeymoons, nature and adventure vacations, and yoga retreats.
Article by Shannon Farley
Related articles