One of the great aspects about visiting the famous cloud forest in Monteverde, Costa Rica, is all of the fantastic restaurants in the area. Whether it is because so many international residents from all over the world live here, or that Monteverde is a popular tourism destination in Costa Rica, the result is the same – excellent gourmet cuisine at dozens of restaurants in the high mountain jungle. Two of the best restaurants in Monteverde are located at the luxury Hotel El Establo. Located very near the world-famous Monteverde Cloud Forest Reserve, El Establo Mountain Hotel features the casual dining restaurant Las Riendas and the elegant gourmet restaurant Laggus.
Las Riendas Restaurant at Hotel El Establo in Monteverde

With a nod to the hotel's history as a stable, Las Riendas Restaurant – the name means "the reins" in Spanish – is easy to find right by the hotel's entrance on the main road leading to the Monteverde Cloud Forest Reserve. The expansive two-room dining space seats 140 persons, and can be used for events and wedding receptions. A small, cozy "sports bar" is off to one side. Las Riendas offers a varied gourmet a la carte menu in addition to breakfast, lunch and dinner buffets. The breakfast buffet – included in guests' rates – is ample, made to fill you up for hiking in the cloud forest all day! The delicious, all-you-can-eat spread includes a variety of tropical fruits, granola, cereals, yogurt, gallo pinto (Costa Rican rice and beans), eggs, sausages, breads, jams, muffins, juices, tea and coffee. Restaurant hours: Monday to Sunday from 6:30 a.m. to 10:00 p.m. Laggus Restaurant at Hotel El Establo in Monteverde

An elegant and inviting restaurant, Laggus is an excellent option for fine dining in Monteverde. The formal restaurant features an international gourmet menu, and is open only for lunch and dinner. Laggus is located in the center of Hotel El Establo's property in a modern, two-story building with balconies on both floors. The spacious restaurant offers seating for 80 persons and a top-notch wine selection. From inside the dining room or out on the open decks, you can appreciate spectacular views of the hotel grounds, a small lake just below, the Nicoya Gulf in the distance, and on clear evenings, you are treated to stunning sunsets.

On the second floor there is a lounge bar area where you can relax before or after dinner, with flat-screen televisions playing music videos, or you can enjoy a game of billiards. In the high season they offer live music. There is a Happy Hour every day from 5:00 to 7:00 p.m., when you can enjoy two-for-one selections of drinks before you dine.

Meals by the very talented and creative Costa Rican chef Oscar Vargas and his team are fabulous, and well worth the trip to Monteverde alone. A recent dinner selection included an Oriental salad with shrimp and vegetables as a starter, beef with caramelized strawberries and pesto potatoes for the main course, and passion fruit cheesecake for dessert. Restaurant hours: Monday to Sunday from 2:00 p.m. to 10:00 p.m. Reservations are required.
Monteverde, Costa Rica Monteverde is located in Costa Rica's Central Highlands, approximately three hours from San Jose, the Arenal Volcano, and Pacific Coast beaches of Guanacaste. Monteverde's cloud forest is renowned as one of the most extensive cloud forests in Central America. Monteverde's climate is called "eternal spring" due to its elevation range from 4,662 feet (1,440m) to 5,900 feet (1,800m) that keeps it cool and misty, with pockets of warm sunshine, rainbows and forever green.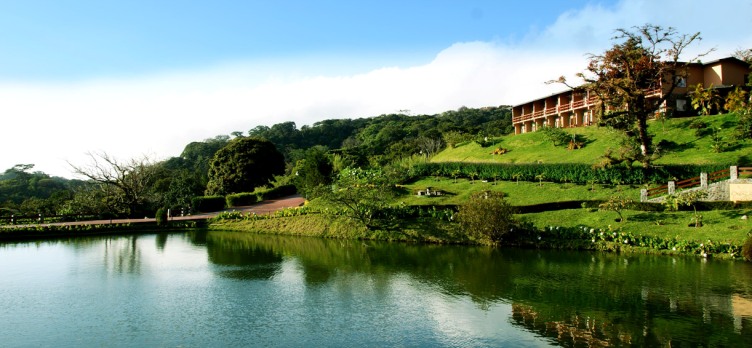 Where to stay in Monteverde, Costa Rica Located very near the world-famous Monteverde Cloud Forest Reserve, El Establo Mountain Hotel is one of the most luxurious hotels in the region. More than 150 comfortable and well-appointed rooms feature either a private balcony or patio with magnificent views over the Monteverde forest and across to the Nicoya Gulf. On the property you can take advantage of hiking and mountain biking trails, the Tree Top canopy zip line tour, the Night Walk tour, a Spa, and two heated indoor pools in addition to other activities. El Establo Hotel is part of the Enchanting Hotels collection in Costa Rica.
Article by Shannon Farley
Related articles