Dining at Nicuesa Lodge is a fun experience combining delicious cuisine with the opportunity for guests to relax together, share their experiences and make new friends.
Article by Shannon Farley
One of the things guests love most is dining at Nicuesa Lodge.
Guests dine together for all meals in the open-air main lodge building, masterfully designed like a treehouse. Since all meals and snacks and drinks (natural juices, water, coffee and tea) are included as part of every guest's stay at the lodge, the communal dining experience is easy. Guests also are free to dine at their own table apart from the group, if they request it.
Most people prefer dining together, even if they are unsure about the concept before they arrive. Gathering with each other around the beautifully hand-carved, long wooden table lets guests share experiences and make new friends.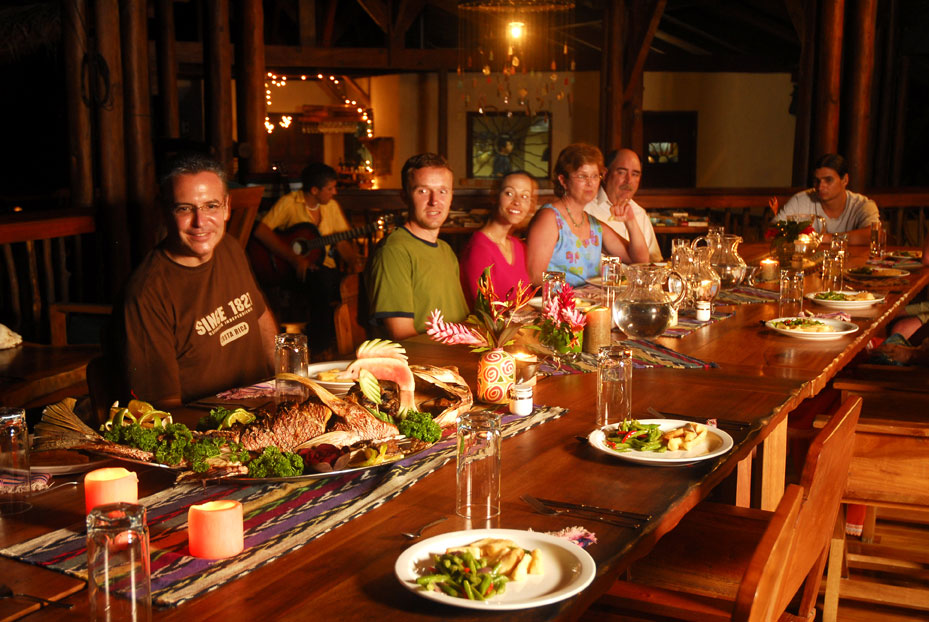 "We had the most amazing time here. You have the choice of eating your dinner in private or joining in the long cozy dinner table (which is what I'd heavily recommend) getting to meet and share a meal time with the other guests at the lodge. We did the latter and got to meet other guests from different walks of life; an experience most pleasant and rare in our times," writes a guest from Washington State on TripAdvisor.
A guest from California, who stayed in May 2018, concurred: "It's a family atmosphere where you will make friends from around the world. The food is fresh and excellent."
Unlike other hotels, where generally you and your traveling companions keep to yourselves, Nicuesa Lodge encourages everyone to join in the family atmosphere. The nightly happy hour in the main lodge's candlelit bar with fresh appetizers and drink specials is a good ice breaker and opportunity to mingle. When it's time to move over to the main dining room, guests are usually fully engaged in sharing stories of that day's adventures or prior travels.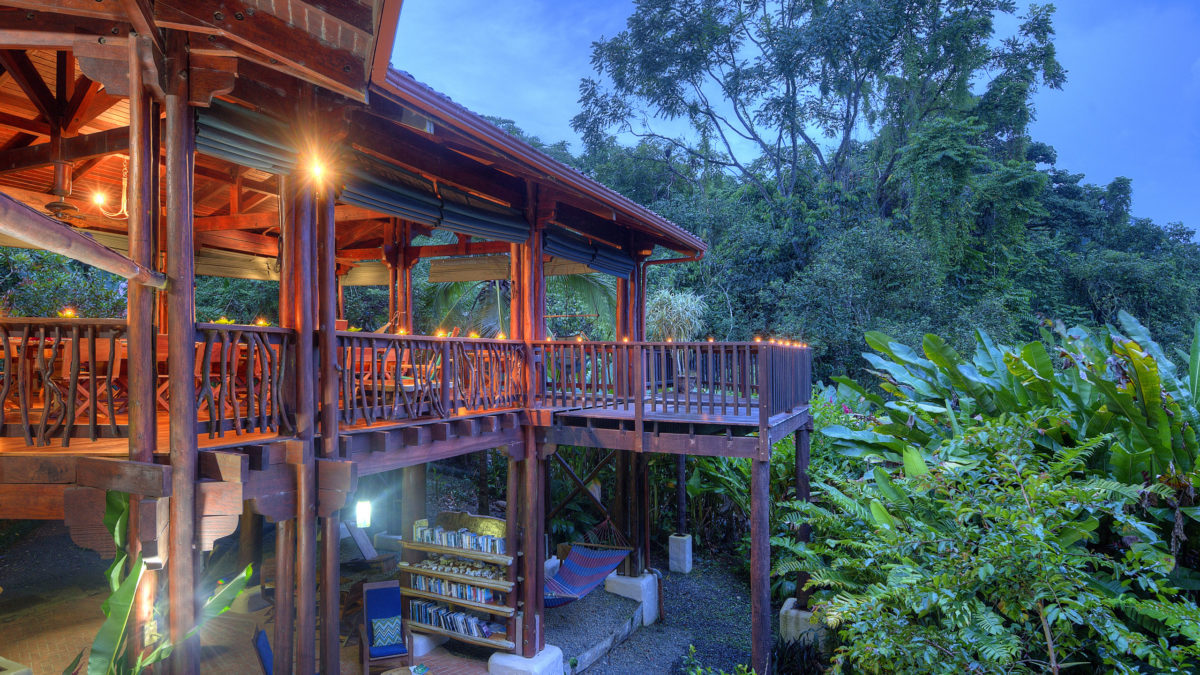 "Beforehand, we had some reservations about the communal dining … but this proved unfounded – the other guests are a cosmopolitan mix, but generally like-minded in enjoying the natural environment which the lodge offers and it was fun to exchange stories and hand over tips to the latest new arrivals," wrote a guest from the UK who stayed at the lodge in February 2018.
Guests sometimes plan to take tours together in the following days, and it is common for families to stay in touch long after their holiday at Nicuesa Lodge has ended. Nicuesa guides and management staff also join in the meals, and are available for any questions and assistance with anything.
What about the food? Costa Rican cuisine with an emphasis on fresh fish, tropical fruits and locally grown vegetables is served. The lodge's 165-acre private reserve bountifully produces mangoes, pineapples, oranges, lemons, papayas, water apples, bananas, coconuts and cacao, in addition to herbs and many vegetables. Fresh fish being served is often caught by Nicuesa's own guests earlier that day.
"The lodge meals were good quality home cooking, with choices for a hot breakfast dish, choices for lunch and choices for a dinner main course; and the pre-dinner appetizers and cocktails were excellent! Snacks were also provided on the boat trips," wrote the UK guest who stayed at the lodge in February.
"The food was excellent. There was a vegetarian choice every mealtime and they also catered for my parents who are vegan, and my sister who is a celiac. The food was fresh, interesting and delicious," wrote another guest from the UK who visited in February. "The dining room and schedule is designed so you can get advice from the guides and also get to know the fellow guests, which was an added bonus."
Don't miss out on the exotic flavors of Nicuesa Lodge. You too can enjoy the lodge's fresh recipes with their free PDF downloadable Edible Landscape Garden Cookbook found on their website.