If you're learning more about birding, or already an avid birdwatcher wanting to check a few more species off your list, Monteverde is the place for you. What better place to enjoy this activity than in a tropical cloud forest, where you may combine birding with nightwalks, ziplines through nature, butterfly parks, spa treatments and more.  El Establo Mountain Hotel is the same altitude and has the same conditions as the Monteverde Cloud Forest Reserve, it is actually only two kilometers away in a straight line which means you can observe the same wildflife at the hotel's protected areas as you can at the park.
Rony Castro, naturalist guide in the Monteverde area, explained that birdwatching may be done all year round.  There are migratory species, on their way to South America which can be seen October through April, like the Swainson Thrush.   Some are migratory/resident, enjoying Monteverde so much they decide to hang out a bit longer, such as the Summer Tanager and the Baltimore Oriole.  Its most famous resident, the Quetzal, is a beautiful bright green and red trogon, who nests in decomposing trees in the forest.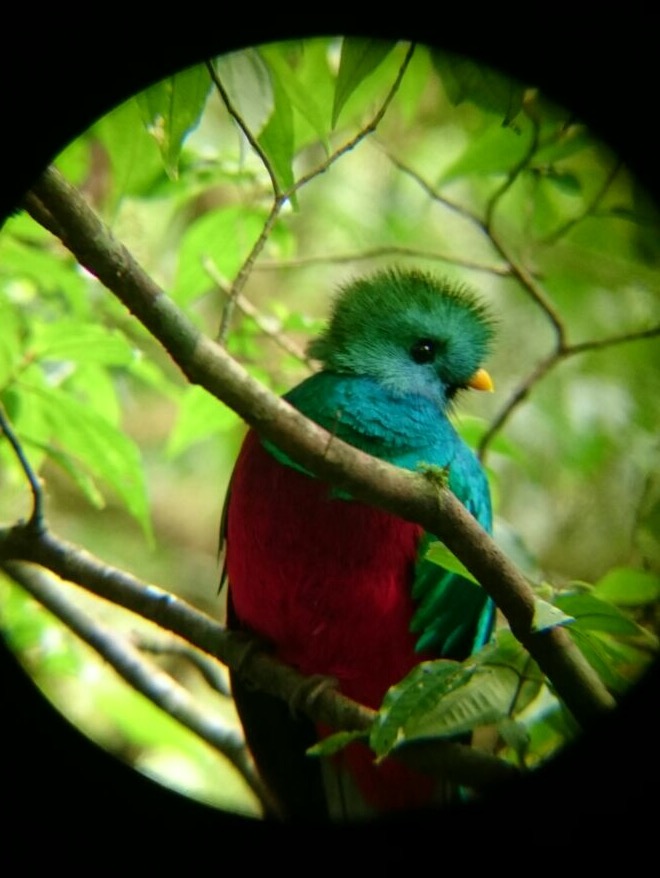 Rony recommends going out early in the morning, 6am at the latest, whether birdwatching inside the hotel or in the Santa Elena or Monteverde National Parks.  No special equipment necessary, as experienced guides will have telescope or binoculars and a guidebook, and they will assist you in taking that perfect photograph.
Due to the importance of Monteverde to the biodiversity of Costa Rica, guides voluntarily engage in a yearly bird census in the area, and share the information will the Ornithological Society who collects and analyzes data.  Last year over 430 bird species where accounted for, approximately 50% of the bird species found in Costa Rica as a whole.
One of my personal favorite places in Monteverde is the hummingbird garden next to a small café and gift shop at the entrance to the National Park.  No entrance fee, just walk right over, stand still in the middle of the feeders and feel the buzz and energy of these vibrantly colorful small creatures around you.  If you can manage to hold your hand out and keep still for a bit they might perch on your hand, or stop midflight in your line of sight.
Birdwatching is yet another activity waiting for you at El Establo Mountain Hotel in evergreen Monteverde.  Clean your lungs, exercise your body, and refresh your spirit by observing and appreciating the beautiful gifts nature has given us,
Article by Katie Widdowson